Fiscal Cliff Deal Is Near - Mike Swanson (12/18/12)
By

Mike Swanson

on Tue, 12/18/2012 - 07:04
The Washington Post is reporting today that a fiscal cliff deal is near, and will either happen in the next few days or won't get done at all:
---
"Behind the scenes, administration officials and senior Republican aides continued to make progress. Obama laid out a counteroffer that included significant concessions on taxes, reducing the amount of new revenue he is seeking to $1.2 trillion over the next decade and limiting the hike in tax rates to households earning more than $400,000 a year. Obama had previously sought $1.4 trillion in new revenue, with tax increases on income over $250,000.
Obama also gave ground on a key Republican demand — applying a less-generous measure of inflation across the federal government. That change would save about $225 billion over the next decade, with more than half the savings coming from smaller cost-of-living increases for Social Security beneficiaries.
In addition, Obama increased his overall offer on spending cuts and dropped his demand for extending the payroll tax holiday, which has benefited virtually every worker for the past two years. But he is still seeking $80 billion in new spending on infrastructure and unemployment benefits and an increase in the federal government's borrowing limit large enough to avert any new fight over the issue for two years.
Boehner has offered a one-year debt-limit increase, and the fresh stimulus spending remains a sticking point, according to senior Republican aides, who also complained that the overall deal remains too tilted toward new taxes."
...
"On Monday, it became clear that the two sides are extremely close on the broad outlines of the deal that has eluded them for much of the past two years. Boehner's latest offer calls for $2 trillion in savings over the next decade, half from higher taxes and half from cuts to the fast-growing health and retirement programs that are the federal government's largest expense. All told, Obama's latest offer calls for about $2.15 trillion in savings.
People in both parties said the next few days could prove critical: Either Obama and Boehner will reach a consensus and sell it to their respective parties, or talks will again collapse, leaving congressional leaders scrambling for a fallback plan to mitigate the economic damage from more than $500 billion in automatic tax increases and spending cuts scheduled to begin immediately after Dec. 31."
---
Meanwhile this morning's NY Times:
---
"President Obama delivered to Speaker John A. Boehner a new offer on Monday to resolve the pending fiscal crisis, a deal that would raise revenues by $1.2 trillion over the next decade but keep in place the Bush-era tax rates for any household with earnings below $400,000. "
....
"The White House plan would permanently extend Bush-era tax cuts on household incomes below $400,000, meaning that only the top tax bracket, 35 percent, would increase to 39.6 percent. The current cutoff between the top rate and the next highest rate, 33 percent, is $388,350. "
...
" Of the $800 billion in straight cuts, the president said half would come from federal health care programs; $200 billion from other so-called mandatory programs, like farm price supports, not subject to Congress's annual spending bills; $100 billion from military spending; and $100 billion from domestic programs under Congress's annual discretion.
To make all this happen, Mr. Obama proposed fast-track procedures to help Congressional tax writers overhaul the individual and corporate tax code and make changes to other programs.
Senior Republican aides made it clear that differences remain. For instance, they say the president is still pressing for $1.3 trillion in higher taxes because the change in the way inflation is calculated would not only slow the growth of spending but also raise more revenue by slowing the rate at which tax brackets rise each year with the cost of living. That would mean that incomes would probably grow faster than the rise in tax brackets, pushing people more quickly into higher tax rates. "
---
The big winner is the military-industrial complex which would only see $100 billion in cuts in this plan while taxes would still go up on the rich, and bigger cuts would happen across the board to most spending programs. Private military contractors dependent on government spending will receive the least amount of "cuts" - which really are lower increases in spending down the road - than any segment of the government. This will help a deal get done as the military-industrial complex is the most powerful lobby in the nation with dozens of Congressmen in its pocket.
Interestingly Republicans quoted in these articles seem to believe that inflation is going to pick up so much that people are going to get sucked into higher tax brackets down the road. Bottom line is the standard of living of most Americans is going to go down due to inflation and debt created as a result of these giant government deficits. Obama's bill will increase both. Of course so would the Republicans if they had their way as no one is serious about cutting spending across the board enough to balance the budget.
If the stock market goes up in anticipation of a deal I would expect there to be some profit taking for a few days after the deal is announced. If it doesn't happen then the market would probably go down next week into New Years and the "fiscal cliff" deadline as people come to the conclusion that no deal will be done.
Check out this new personal blog I started for non-financial related articles - click here.
Grab This Free Report: My Top Options Trading Setup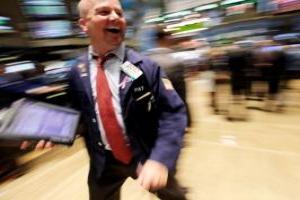 This free special WSW report is devoted to my top options trading setup. I do this one simple trade at least once a month.
Grab it and get along with it our future stock market action updates. Do not think about buying any other stocks or options before you read this report. To get this report click here