Apple and the High Tech Industry Have Not Created Great Jobs in the US - Tim Bellamy (06/25/12)
By

Tim Bellamy

on Mon, 06/25/2012 - 11:25
From The New York Times:
 


Last year, during his best three-month stretch, Jordan Golson sold about $750,000 worth of computers and gadgets at the Apple Store in Salem, N.H. It was a performance that might have called for a bottle of Champagne — if that were a luxury Mr. Golson could have afforded.

"I was earning $11.25 an hour," he said. "Part of me was thinking, 'This is great. I'm an Apple fan, the store is doing really well.' But when you look at the amount of money the company is making and then you look at your paycheck, it's kind of tough."

America's love affair with the smartphone has helped create tens of thousands of jobs at places like Best Buy and Verizon Wireless and will this year pump billions into the economy.

Within this world, the Apple Store is the undisputed king, a retail phenomenon renowned for impeccable design, deft service and spectacular revenues. Last year, the company's 327 global stores took in more money per square foot than any other United States retailer — wireless or otherwise — and almost double that of Tiffany, which was No. 2 on the list, according to the research firm RetailSails.

Worldwide, its stores sold $16 billion in merchandise.

But most of Apple's employees enjoyed little of that wealth. While consumers tend to think of Apple's headquarters in Cupertino, Calif., as the company's heart and soul, a majority of its workers in the United States are not engineers or executives with hefty salaries and bonuses but rather hourly wage earners selling iPhones and MacBooks.

About 30,000 of the 43,000 Apple employees in this country work in Apple Stores, as members of the service economy, and many of them earn about $25,000 a year. They work inside the world's fastest growing industry, for the most valuable company, run by one of the country's most richly compensated chief executives, Tim Cook. Last year, he received stock grants, which vest over a 10-year period, that at today's share price would be worth more than $570 million.

And though Apple is unparalleled as a retailer, when it comes to its lowliest workers, the company is a reflection of the technology industry as a whole.

The Internet and advances in computing have created untold millionaires, but most of the jobs created by technology giants are service sector positions — sales employees and customer service representatives, repairmen and delivery drivers — that offer little of Silicon Valley's riches or glamour.

Much of the debate about American unemployment has focused on why companies have moved factories overseas, but only 8 percent of the American work force is in manufacturing, according to the Bureau of Labor Statistics. Job growth has for decades been led by service-related work, and any recovery with real legs, labor experts say, will be powered and sustained by this segment of the economy.
For full article go to New York Times.
for more go to:
Podcast: Dave Skarica on Europe, Greece, and Gold - Mike Swanson (06/21/12)
Grab This Free Report: My Top Options Trading Setup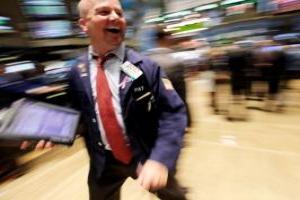 This free special WSW report is devoted to my top options trading setup. I do this one simple trade at least once a month.
Grab it and get along with it our future stock market action updates. Do not think about buying any other stocks or options before you read this report. To get this report click here