Will President Trump Make A Wise Decision or a Dangerous One?
George Soros Argues for Euro Bonds Says Greece Has No Chance - (06/25/12)
By

Tim Bellamy

on Mon, 06/25/2012 - 08:58
From Bloomberg:
 


It is very hard to see how Greece can actually meet the conditions that have been set," he said. "The Germans are absolutely determined not to modify those conditions. One has to now calculate on Greece being forced out of the euro."
...
Spanish and Italian borrowing costs ended last week lower, aided by speculation that European leaders will take action at the Brussels meeting. Spain's 10-year-bond yields retreated to 6.38 percent on June 22. Comparable Italian yields slid to 5.8 percent after climbing to as much as 6.17 percent on June 18.

Neither Spain nor Italy has the ability to "print money" because they are both members of the euro, making it likelier that financial markets can push one of them out of the bloc, Soros said. Spain is likely to need a full bailout unless leaders announce drastic measures at the meeting, he added.

Creating a European equivalent to Treasuries would buy the union time to form a true political union that will ultimately lead to the sale of bonds backed by the entire bloc, Soros said. European Treasuries could be sold to the market within three to six months once an agreement is in place among leaders, he said.
For full article go to Bloomberg.
for more go to:
Podcast: Dave Skarica on Europe, Greece, and Gold - Mike Swanson (06/21/12)
Grab This Free Report: Our Top Donald Trump Stock To Trade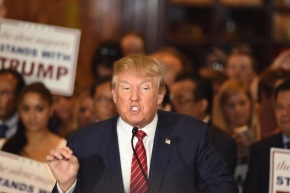 This free special WSW report is devoted to the emergence of new stock market sector leadership following the election of Donald Trump. It includes our latest stock pick to benefit from Trump's programs. Do not think about buying any other stocks before you read this report. To get this report click here