Hopes of New Money Pumping Helps Stock Markets - Tim Bellamy (06/17/12)
By

Tim Bellamy

on Sun, 06/17/2012 - 11:57
In a week that saw the markets swing first one way then the other, equities managed to post gains of up to 1.7% as European authorities came to the aid of Spain's banks, and the UK's Chancellor signaled a pre-emptive move to shore up its own banking system.
European markets started strongly after last weekend's announcement of a €100 billion banking bailout for Spain, though the rally quickly faded as questions were raised over Spain's ability to sustain its economy in the longer term. As a consequence, Spanish bonds lost favor in the markets, with yields rising to above 7%, the level at which Greece, Ireland, and Portugal were all forced to accept full bailout packages. The domino topple of European countries seeking funding of one sort or another may continue with Italy, where bond yields have moved above 6% once more. But before Italy falls, Cyprus has been rumored to require a bailout of €4 billion. Though this sounds a small amount, it is the equivalent of 20% of the size of its economy.
The UK, defying its earlier predictions that its banks are well protected from any fallout from the Eurozone unravelling, took pre-emptive action to further protect the sector. In a move designed to also increase economic activity, the Bank of England announced that it would pump £140 billion with cash, provided that money is lent to the private sector. It will also offer cheap six-month loans in exchange for higher risk collateral.
Elsewhere, in Asia, China and India both reported slowing growth this week, though Japan's domestic demand led to an increase of 5.7% in machinery orders as it continues to recover from the effects of the tsunami. China's growth is slowing more rapidly than expected, with retail sales growth slowing and industrial output growing at 9.6% in April year on year versus expectations of a 9.9% increase. Indian industrial output, meanwhile, remained flat in April from a year earlier, after falling by 3.2% in March.
Oddly, markets were helped toward the end of the week as United States' economic data came in weakly. Consumer prices fell for the first time in two years, weekly jobless claims rose to 386,000 and retail sales fell by 0.2%. Topping the poor set of data off was the news that US industrial production fell by 0.1% in May.
With this poor economic background, markets rose with general anticipation that a more accommodating monetary environment will prevail here and abroad.
After downgrading Spanish, Italian, and German banks in recent weeks, Moody's turned its attention to the Netherlands, where it downgraded ING and four others, citing falling house prices, and regional economic weakness.
General Motors (NYSE: GM) said that it plans to close its Adam Opel factory in Germany in 2016, and Nokia (NYSE: NOK) announced 10,000 job losses worldwide as declining sales push up losses.
The S&P 500 Index followed last week's bounce with a further up tick of 1.3%, closing Friday at 1342.84, while the Dow Jones rose by 1.7% to 12767.17. Lagging behind, with the fortunes (or not) of Facebook (NASDAQ: FB) weighing, was the Nasdaq 100 with a rise of just 0.46% to 2571.23.
This Week's Economic Releases
Tuesday 19th June
CPI numbers are announced in the UK, while German economic sentiment may show some retraction. Japan's trade balance is released.
Wednesday 20th June
UK unemployment and average earnings numbers are released, though eyes will be focused on the US rates decision and the accompanying FOMC statement.
Thursday 21st June
In Europe, France, Germany, and Switzerland all release manufacturing data, while the UK's retail sales may show a slowing high street. In the US, initial jobless claims will provide focus.
Friday 22nd June
German releases latest its business climate index, and Canadian CPI data is announced.
This Week's Major Company Results Due:
Tuesday 19th June
FedEx (NYSE: FDX) and Adobe (NASDAQ: ADBE)
Wednesday 20th June
Bed, Bath, and Beyond (NYSE: BBBY)
Thursday 21st June
Oracle Corp (NASDAQ: ORCL)
Friday 22nd June
Darden Restaurants (NYSE: DRI)
Grab This Free Report: My Top Options Trading Setup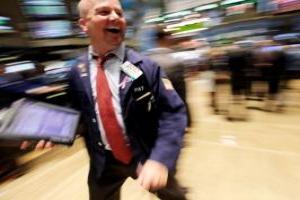 This free special WSW report is devoted to my top options trading setup. I do this one simple trade at least once a month.
Grab it and get along with it our future stock market action updates. Do not think about buying any other stocks or options before you read this report. To get this report click here