United States Steers toward Economic Slowdown while Europe Drives Markets Lower - Tim Bellamy (06/02/12)
By

Tim Bellamy

on Sat, 06/02/2012 - 06:37
After last week's better than expected economic numbers in the United States, this week saw the brakes firmly slammed on and the gear shift snapped into neutral, if not quite reverse just yet. With Eurozone economic news pointing toward a broad based decline and Spain's banks creaking under the pressure of their debts, markets moved down substantially.
Manufacturing activity in the Eurozone, as measured by the manufacturing purchasing managers' index, fell to a near three year low after the tenth consecutive monthly decline saw the index drop to 45.1 in April. Consumer sentiment across the region is turning bearish also, and this has helped feed a worsening employment market: unemployment of 17.4 million, or 11%, is the worst the Eurozone has seen in its history, and is some 1.8 million higher than 12 months ago.
With Greece almost certain to fall out of the Euro in the next few weeks, attention has turned elsewhere and the market has started eyeing the problems in Spain, where the government is battling to save the country's fourth largest banking group, Bankia, from failure. The ECB has refused to recapitalize Bankia, which requires €23.5 billion to stop it from falling into bankruptcy. It is perhaps this decline of help that has sent shivers through Europe. Mario Draghi, the ECB President, said that Europe's political leaders need to find a new longer term vision for the region, in a statement that spelt out the ECB's lack of willingness to keep bailing out Europe's indebted nations - or perhaps its inability to do so. Adding to Spain's woes was the news that retail sales in the Eurozone's fourth largest economy fell by nearly 10% in a year.
Chinese and Indian economic releases this week have showed growth slowing markedly.
In China manufacturing activity fell through April and May. The purchasing managers' index dropped from 53.3 in March to 50.4 in April, and HSBC's measurement of manufacturing activity fell to 49.3 for May. In a bid to add some economic impetus, the Chinese government has approved hefty infrastructure projects in the last couple of months, such as the building of four new airports.
India saw its economy growing at its slowest pace for nine years. GDP was just 5.3% higher than last year, and some way below forecasts of 6.1% growth.
May's jobs market in the United States was far weaker than had been expected, with just 69,000 jobs added compared to estimates of 150,000. The private sector added just 82,000 jobs, half the expected number. April's jobs' increase (originally posted as 115,000) was revised down to 77,000 and initial jobless claims for the week by 10,000 to 383,000. The unemployment rate rose to 8.2% from 8.1%. Economic growth, posted as 2.2% in previous estimates for the first quarter, has been revised downwards to 1.9%. It would seem that the economic malaise being seen throughout the rest of the world is finally filtering through to the United States.
As global economic growth has slowed, stalled, and reversed, so too has the oil price, which has now declined by around 25% from February's highs of around $110 per barrel. This is good news for America's auto drivers, who have seen gasoline prices fall to around $3.65 per gallon, with further falls expected in the coming weeks.
The worsening global economy, and negative investment sentiment, has pushed through to a flight from equities and commodities to the safer haven of US, German, and UK bonds. Yields in Germany and the UK have fallen to historic lows, and benchmark rates in the United States have fallen to a level not seen since the end of World War II. Two year German bund yields turned negative this week, while its 10-year bunds now yield just 1.123% (compare to Spain's 10-year bond yield of over 6.5%).
On the corporate front, whilst Ford (NYSE: F) and General Motors (NYSE: GM) posted strong sales numbers for May (+13% and 11% respectively from a year earlier), Blackberry maker Research in Motion (NASDAQ: RIMM) said that it is likely to post losses for the second consecutive quarter. The firm is suffering from competition from Apple's iPhone and other android phones, and is looking to cut costs as it restructures its business.
Shares in Facebook (NASDAQ: FB) fell further this week – to around $28 - as class action lawsuits are filed against the IPO managers, inside investors, and Facebook executives. The Facebook story is one that promises to run for some time to come.
The S&P 500 Index crashed back through the 1300 level, ending the week 3% lower at 1278.04, whole the Nasdaq 100 fell away by more than 2.5% to close at 2458.82, with both Apple (NASDAQ: AAPL) and Facebook performing badly. The Dow Jones Industrials Index fell a similar amount, closing of Friday at 12118.57.
This Week's Economic Releases
Monday 4th June
Australia releases its current account data, and the United States releases factory order data.
Tuesday 5th June
Australian releases GDP figures, and its interest rate decision. Eurozone retail sales may be weak, while German Factory orders will be keenly watched for signs of a slowdown in the Eurozone's strongest economy.
Wednesday 6th June
Australia announces its unemployment numbers, while South Korean GDP figures are released. Eurozone GDP figures are announced, along with German industrial production numbers. In the United States, non-farm payrolls and unit labor costs will be watched, as will the Fed's rlease of its Beige Book.
Thursday 7th June
The UK's BoE releases QE data and its interest rate decision. Mexico releases CPI number.
Friday 8th June
UK PPI figures are released, and in Canada housing starts and employment numbers will show relative economic strength. Chinese inflation data is due to be released.
This Week's Major Company Results Due:
None Expected.
More:
Podcast - Dave Skarica Discusses Greece, the Euro, and Gold - Mike Swanson (05/31/12)
Gold Stocks Market Vectors Miners ETF (NYSE: GDX) Provide Market Timing Signals - Mike Swanson (05/30/12)
My Big Picture View of the Stock Market and Game Plan - Mike Swanson (05/29/12)
Lessons and Opportunities from the Facebook (NASDAQ: FB) IPO Stock Disaster - Mike Swanson (05/27/12)
Podcast: Jeff Pierce Gives His Update on Bonds and Warns About Further Selling in the Nasdaq to Come - Mike Swanson (05/23/12)
Podcast: Ike Iossif on How the Marketviews.tv MGCI Indicator Is Giving a Sell Signal - Mike Swanson (05/20/12)
Stock Market Is Now In A Correction - Mike Swanson (05/16/12)
Grab This Free Report: My Top Options Trading Setup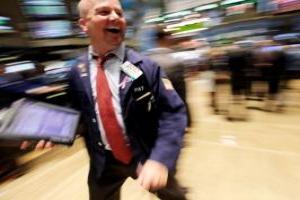 This free special WSW report is devoted to my top options trading setup. I do this one simple trade at least once a month.
Grab it and get along with it our future stock market action updates. Do not think about buying any other stocks or options before you read this report. To get this report click here