Stock Market Preview for the Week: More Tech Earnings Due - Howard B. Arnn (01/29/12)
By

Howard B Arnn

on Sun, 01/29/2012 - 08:53
In a big week on the results front, the Dow Jones Industrial Index broke its winning streak though the tech heavy Nasdaq put on a further 1%. The S& P 500 Index stayed put around the 1316 level as traders eye support at 1310 and resistance at 1325.
The Nasdaq was spurred to further New Year gains as the technology produced another set of good earnings reports. The shining star was Apple (NASDAQ: AAPL), which produced a set of sparkling numbers on Wednesday morning. Its earnings have increased by the best part of 50% since the same time last year, and sales of its iPhone product reached 37 million in the quarter. Executives at the company are mulling whether to pay some of its cash pile to shareholders by way of dividends. Apple's shares ended the week with a 6.4% gain from the previous Friday.
Advanced Micro Devices (NASDAQ: AMD) also reported earnings ahead of expectations, though Nvidia (NASDAQ: NVDA) cut its fourth quarter guidance. Earlier in the week, Texas Instruments (NYSE: TXN) had disappointed with its results and a lowering of guidance for the first quarter, whilst STMicro (NYSE: STM) had delivered results in line with market consensus.
The aerospace sector also produced better than expected earnings, with Boeing (NYSE: BA), United Technologies (NYSE: UTX), Lockheed Martin (NYSE: LMT), and Textron (NYSE: TXT) all beating expectations. However, Boeing has lowered its 2012 full year guidance, due in main to a large pension charge, and its shares ended the week $1 lower at $74.55.
In the broader economy, Caterpillar (NYSE: CAT) produced good results, whilst 3M (NYSE: MMM) was in line with estimates and AT+T (NYSE: T) was mildly disappointing, though it predicts a positive future. Netflix (NASDAQ: NFLX) sees losses continuing throughout 2012.
As it moves toward its split into New ConocoPhillips (exploration and production) and Phillips 66 (Marketing and refining), ConocoPhillips (NYSE: COP) said its profits grew by 60% year on year in the December quarter, aided by higher than expected crude prices. However, Chevron's (CVX) revenues missed expectations and the company said it expects production levels to be flat in 2012.
Proctor and Gamble (NYSE: PG) has warned that high commodity costs will negatively impact its third quarter earnings and it is considering lowering some of its product prices to gain market share.
Finally, whilst results from Starbucks (NASDAQ: SBUX) and Altria (NYSE: MO) came in as expected, Ford (NYSE: F) blamed higher material costs and the flooding in Thailand for its poorer than expected profits.
Economic announcements were similarly mixed through the week.
The US administration has welcomed European Union sanctions on Iran, though the IMF has warned that the banning of oil imports could lead to a rise of as much as 30% in the price of crude oil. Europe has also placed sanctions on Iran's financial and transport sector, including freezing the assets of the Iranian Central Bank.
Though earlier in the week it was hoped that Greece would conclude discussions with its private creditors, by the close of business on Friday it was announced that talks would continue through the weekend. Perhaps attempting to prompt some positive action, on Wednesday Germany's Chancellor, Angela Merkel, said that she now doubts the European Union can save Greece from a default. After two years of massive bailouts and austerity measures, Greece is still on the brink of collapse, and Germany's appetite to help financially is waning rapidly. In reaction, much watched investor George Soros has been extremely scathing about Europe's prospects, saying that Germany's stance on austerity measures could split the continent apart and spell the end for the Eurozone as it is today. He sees an increasing likelihood of a deflationary debt cycle emerging in the European economy.
Still in Europe, Britain confirmed that problems with debt are not limited to the Eurozone. On Wednesday it announced that its public sector net debt had risen to over £1 trillion for the first time (approximately $1.57 trillion), and now stands at more than 64% of GDP.
The IMF's revised forecasts of lower global growth – it now sees growth of 3.3% through 2012 compared with its earlier forecast of 4% - was prompted by the problems with European sovereign debt and the impending recession in the region. On Friday, Fitch (the ratings agency) confirmed that it was lowering the credit ratings on six European nations, following the lead of Standard and Poor's earlier in the month.
On the domestic front, the FOMC has signaled its intention to keep rates on hold and in the region of 0 – 0.25% through to 2014. This is seen by some observers as tantamount to further monetary easing, and caused the Dollar to slip in currency markets. As a result, gold moved up to over $1730 an ounce, a price last seen at the beginning of December.
New Home Sales in the US fell by 2.2% in December as Freddie Mac reported 30-year mortgage rates are rising. Home prices were seen improving (up 1% in November), though still showing a decline of 1.8% through 2011. They now stand around 19% below the peak of 2007.
Spurred by orders for airplanes and heavy machinery, durable goods orders rose by 3% in December, though GDP growth for the fourth quarter, posted as an annualized 2.8%, missed expectations of growth of 3.2% by quite some distance.
The Dow Jones Industrials fell by 0.5% on the week, ending at 12,660.46, while the S&P 500 Index closed barley changed at 1316.33. The performer of the week was the technology laden Nasdaq 100, closing at 2461.77, a rise of 1% on the week.
This Week's Economic Releases
Monday 30rd January:
Germany's CPI is expected to have eased slightly in January to 2.0% year on year from 2.1% in December. December retail sales should show an increase of 0.9% from November's level as shoppers spent on Christmas gifts.
Japan's unemployment rate should remain stable at 4.5%, though industrial production is expected to have picked up by 3.2% in December as the country continues to recover from last year's natural disasters. This will still leave industrial production down by 5% year on year.
Personal incomes in the United States are expected to have increased by 0.4% in December.
Tuesday 31st January:
German unemployment is estimated at 6.8%, whilst the rate across Europe is likely to rise from 10.3% to 10.4% as the continent imposes further austerity measures.
Canadian GDP is likely to have risen by 0.2% in November from October, though Industrial product prices may show an increase of 0.7% in December.
Thursday 2nd February
December Australian and Swiss trade balances are expected to remain relatively stable at 1.23 billion and 3.01 billion respectively, and it is hoped that European Producer Prices will have risen by 4.4%, less than the 5.3% seen in December.
Initial jobless claims in the US should show a level maintained from last week, while continuing jobless claims are likely to show 3.55 million unemployed (a rate of 8.5%). Fourth quarter US non-farm productivity should have increased by 1%, some way below the 2.3% of the previous quarter. Unit labor costs are expected to show a rise of 0.8% as raw materials and labor costs start to impact.
Friday 3rd February
Retail sales across the Eurozone for December are likely to show an improvement of just 0.4% month on month.
Canadian unemployment will come in at a rate of 7.5%, and US non-farm payrolls are expected to have increased by 150,000. Average hourly earnings in the United States are seen to have risen by 2% annualized in December, whilst factory orders should have picked up by 1.2% in December from November.
This Week's Major Company Results Due:
Monday 30th:
Annaly (NYSE: NLY)
Tuesday 31sth:
Amazon (NYSE: AMZN); Biogen (NASDAQ: BIIB); Broadcom (NASDAQ: BRCM); Eli Lilly & Co (NYSE: LLY); Exxon Mobil (NYSE: XOM); Ilumina (NASDAQ: ILMN); Pfizer (NYSE: PFE).
Wednesday 1st February:
AOL (NYSE: AOL)
Thursday 2nd February:
International Paper (NYSE: IP)
Other Events This Week:
The event that is likely to set the tone for the coming week is the continuing discussions between Greece and its private creditors over the weekend.
For more:
Podcast: Nick Santiago of InTheMoneyStocks.com Sees a Short-term Correction, Rally Back up, and then Big Trouble Ahead - Mike Swanson (01/27/12)
Podcast: Markus Heitkoetter of RockwellTrading.com on His Daytrading Tactics, Indicators, and Range Base Trading Strategies - Mike Swanson (01/26/12)
Podcast: David Banister of MarketTrendForecast.com Talks About a Likely Stock Market Pullback and Then Another Move Higher - Mike Swanson (01/25/12)
Grab This Free Report: My Top Options Trading Setup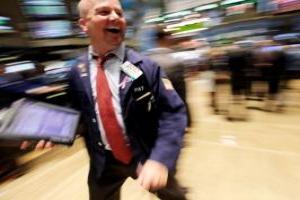 This free special WSW report is devoted to my top options trading setup. I do this one simple trade at least once a month.
Grab it and get along with it our future stock market action updates. Do not think about buying any other stocks or options before you read this report. To get this report click here