Will President Trump Make A Wise Decision or a Dangerous One?
Experts See March 20th as Potential Greek Default Date - Fred Dunsel (01/22/12)
By

Fred Dunsel

on Sun, 01/22/2012 - 14:14
It appears there is a solid date established for when Greece will default on its €14.4 billion bond maturing that it does not have the resources to repay, according to reports published by Reuters and Forbes.
Felix Salmon, a finance blogger for Reuters, wrote in a January 17 post that the looming date is March 20. "The March 20 bonds are currently bid at 42, offered at 44, and no one is going to accept a deal worth 32 cents or even 40 cents if you can just sell those bonds outright for 42 cents," Salmon reported. "And similarly, no one buying the bonds right now at 42 is going to accept any deal at 32 … it's much harder to reach a deal now than it was a few months ago, because many of Europe's biggest banks have quietly sold their holdings of Greek debt to aggressive hedge funds."
Forbes contributing writer Tim Worstall agrees.
"A sufficiently large portion of the Greek debt is held by various official bodies (the ECB and the like), official bodies who are not going to take the haircut," Worstall wrote. "(That) means that if the current private sector holders don't all sign up, if there's any significant number of hold outs, then the math of the whole deal doesn't work anyway. Greek debt won't be reduced enough to make it sustainable. So Greece will have to default somewhere down the road anyway."
Finance ministers for the European Union meet in Brussels beginning Monday, Jan. 23 to iron out new budgeting rules. BusinessWeek reported that over the weekend talks between Greek officials and private bondholders made progress. Both sides hope a second round of financing from the international community will be in place before the March 20 deadline.
Bloomberg News reported that "the proposed treaty will require a centralized 'correction mechanism' to be triggered automatically in cases of 'significant' deviations from a target structural deficit of 0.5 percent of GDP."
However, back on Jan. 17 Fitch Ratings Managing Director Edward Parker said in published reports that "The so-called private sector involvement, for us, would count as a default; it clearly is a default in our book. So it won't be a surprise when the Greek default actually happens and we expect it one way or the other to be relatively soon."
For more go to:
Victor Riesco on the Current Stock Market Rally and His Recent Trades - Mike Swanson (01/20/12)
Podcast: Mike "Tiny" Saul Talks About How Stocks Respond to Earnings and His Take on the Stock Market - Mike Swanson (01/18/12)
Podcast: David Morgan on Silver Investing in 2012 - Mike Swanson (01/15/12)
Podcast: Jeff Pierce of Zentrader.ca Talks about the Bond Market and Financial Blogging - Mike Swanson (01/14/12)
Grab This Free Report: Our Top Donald Trump Stock To Trade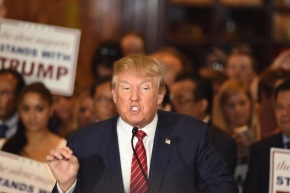 This free special WSW report is devoted to the emergence of new stock market sector leadership following the election of Donald Trump. It includes our latest stock pick to benefit from Trump's programs. Do not think about buying any other stocks before you read this report. To get this report click here