Stock Market Preview: Rally Continues as Markets Eye Busy Week Ahead - Howard B. Arnn (01/22/12)
By

Howard B Arnn

on Sun, 01/22/2012 - 07:38
Though last week's corporate earnings presented investors with a mixed bag of results to ponder, better news on the domestic economic front along with more encouraging news from Europe spurred the market to a third week of gains.
The banking sector remains under a cloud, as investment banks reported decreased earnings. Goldman Sachs (NYSE: GS) fourth quarter came in 58% lower and Morgan Stanley's (NYSE: MS) results showed a swing from a profit of $871 million a year ago to a loss of $227 million as its institutional business fell by 42%. Citigroup's (NYSE: C) reported a revenue fall of 7% as its profits declined by 11%. However, Wells Fargo (NYSE: WFC) said that improvements in its loan book, along with limited exposure to investment banking, had helped to boost its fourth quarter profits by 20%. Asset sales at Bank of America helped it to post a better than expected profit of $2 billion, masking an investment banking profits collapse of 73%.
In the technology sector, Intel (NASDAQ: INTC) reported a revenue rise of 21% as businesses helped offset weaker private demand for its products. IBM (NYSE: IBM) confirmed fears for its hardware side, though software sales helped it to post a 4.4% gain in fourth quarter earnings, and Microsoft (NASDAQ: MSFT) beat market forecasts with better than expected sales of its Office products and Xbox systems.
Revenues at General Electric (NYSE: GE) fell by nearly 8%, caused by the sale of its NBC Universal stake. However, in its core industrial business, it saw infrastructure orders grow by 15%.
On the economic front, releases are still mixed confirming a difficult, but possibly improving, business environment. US home sales were up by 5% in December from November, though this was lower than the estimated 5.2% increase. Initial jobless claims fell by 50,000, pulling the four week average down to 379,000, whilst inflation was seen as subdued. US PPI figures fell by 0.1% as food and energy costs eased. For the year, however, this translates to producer prices increasing at 4.8% with consumer prices adding 3.0%.
Internationally, there was better than expected news though Germany's cut in its expectations for economic growth in 2012 from 1% to 0.7% (the second cut in recent months) went largely ignored as the ZEW economic sentiment index rose from –53.8 in December to –21.6 in January. Staying in Europe, Greece is working hard to agree terms o its debt with private creditors, and there is hope that its efforts will prove fruitful. Greece's next bailout, due to be put into place next week is dependant upon private creditors agreeing to accept a cut in debt owed to it by the Mediterranean country.
Finally, China's economy grew by 8.9% in the fourth quarter from a year earlier, though the rate of growth is slowing and manufacturing output continues to decline.
The Dow Jones Industrials gained 2.3% on the week, ending at 12,720.48, while the Nasdaq 100 closed on Friday at 2437.02, a gain of 2.7% from last Friday. Last week's best performer the S&P 500, was this week's laggard, closing at 1315.38 and posting a gain of 2.1% on the week.
This Week's Economic Releases
Monday 23rd January:
Australia's PPI index is expected to show an increase of 0.5% quarter on quarter, whilst Consumer confidence in Europe is expected to have picked up a little, though still on the deeply negative side.
Tuesday 24th January:
The Bank of Japan will release its latest policy statement, and is expected to keep interest rates on hold at 0.1%.
In Europe, purchasing managers numbers are likely to be little changed in January from December, and the UK's public sector borrowing requirement may show some improvement as the government there continues to cut expenditure. The European Union is expected to have seen a 2.1% contraction in month on month industrial orders in November.
Wednesday 25th January
Australian markets celebrate ANZAC day, while its CPI numbers are expected to show a hike of 0.2% in the fourth quarter. The Bank of England releases its monthly meeting minutes, and the UK's GDP is expected to have reduced by 0.1% in the fourth quarter of last year.
The Fed will announce its latest interest rate decision, expected to be to keep rates on hold at 0.25%.
Thursday 26th January:
US durable goods orders in December are expected to have increased by 2%, and excluding transportation by 1%. Initial jobless claims should show 374,000 made claims in the latest period, below the important 400,000 level.
F
riday 20th January:
Here, GDP is expected to have increased at an annualized rate of 3%, and real personal expenditure is set to show a rise of 2.3% quarter on quarter in the fourth quarter. Finally, the Michigan Consumer Sentiment Index is likely to have moved up again to 73.9.
This Week's Major Company Results Due:
This week sees nearly 500 companies reporting, including:
Monday 23rd:
Halliburton (NYSE: HAL); Zion Bancorp (NASDAQ: ZION)
Tuesday 24th:
Altera (NASDAQ: ALTR); EMC Corp (NYSE: EMC); Johnson and Johnson (NYSE: JNJ); McDonalds (NYSE: MCD); Travelers Cos. (NYSE: TRV); Yahoo! (YHOO); Apple Inc (NASDAQ: AAPL)
Wednesday 25th:
Abbott Labs (NYSE: ABT); ConocoPhillips (NYSE: COP); Netflix (NASDAQ: NFLX)
Thursday 25th:
Amgen (NASDAQ: AMGN); Caterpillar (NYSE: CAT); Lockheed Martin (NYSE: LMT)
Friday 25th:
Altria (NYSE: MO); Ford Motors (NYSE: F)
Other Events This Week:
The main news this week, other than already stated is hoped to be confirmation that Greece will receive its bailout funds.
For more go to:
Victor Riesco on the Current Stock Market Rally and His Recent Trades - Mike Swanson (01/20/12)
Podcast: Mike "Tiny" Saul Talks About How Stocks Respond to Earnings and His Take on the Stock Market - Mike Swanson (01/18/12)
Podcast: David Morgan on Silver Investing in 2012 - Mike Swanson (01/15/12)
Podcast: Jeff Pierce of Zentrader.ca Talks about the Bond Market and Financial Blogging - Mike Swanson (01/14/12)
Grab This Free Report: My Top Options Trading Setup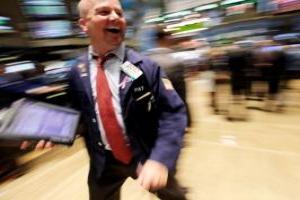 This free special WSW report is devoted to my top options trading setup. I do this one simple trade at least once a month.
Grab it and get along with it our future stock market action updates. Do not think about buying any other stocks or options before you read this report. To get this report click here