Stock Market Preview for the Coming Week: Earnings Season Starts in Full Force - Howard B. Arnn (01/15/12)
By

Howard B Arnn

on Sun, 01/15/2012 - 07:29
Market fights its way forward as economic indicators turn mixed
US markets ended mildly stronger for the second week running, though struggling to remain in the black as mixed economic figures and concerns over European debt tempered Alcoa's strong release early in the week.
Alcoa's (NYSE: AA) report pushed the market higher on Tuesday, as it posted better than expected sales and stated that it expects a tight aluminum market in the coming year. However, news of France and Germany's agreed wishes to place tighter constraints on Greece's bailout package started to weigh on markets as commentators began to doubt the long term viability of the Eurozone in its present form. From a week's high of 12526.76 achieved on Thursday, stocks fell back as rumors that Standard and Poor's would downgrade several European sovereigns started to filter through. These rumors were found to be true, but only after the market closed on Friday. The credit ratings of France, Spain, Italy and Portugal were all downgraded, as was Austria's. The only country to escape either downgrade or to be warned of a possible downgrade was Germany.
The market pull back toward the end of the week was exacerbated by economic statistics turning mixed at home after their recent good run. Weekly jobless claims moved back toward 400,000, December retail figures failed to match expectations, and the trade deficit widened to over $47 billion.
JPMorgan (NYSE: JPM) added to the gloom when its report showed revenue falling short of its estimates, though the eight month high in the Michigan Consumer Sentiment Index lessened the blow of the flow of poor data and negative sentiment toward the end of the week.
The Dow Jones Industrials managed to post a gain for the week of 0.5%, ending at 12,422.06, while the Nasdaq 100 closed on Friday at 2371.98, a gain of 0.67% from last Friday. The S&P 500 was the best supported of our indices last week, closing at 1289.09 and posting a gain of a shade under 1% on the week.
This week fourth quarter earnings season will kick off in stride and will impact the market.
This Week's Economic Releases
Monday 16th January:
America observes Martin Luther King Day.
Germany releases its wholesale price index, expected to show an increase of 4.9% year on year in December, and the ECB President, Draghi, makes a speech which is expected to cast more light on Europe's debt problems.
Tuesday 17th January:
Chinese GDP figures are expected to show a further contraction in its pace of growth, from 9.1% year on year in the third quarter to 8.1% year on year in the fourth quarter. Its Industrial Production numbers are expected to show growth of 12.2% year on year.
Meanwhile, CPI figures release for the EU and the UK are expected to show inflation running at 3% and 4.2% respectively.
Wednesday 18th January
The Bank of Canada is expected to keep its interest rate unchanged at 1%, and here in the US Producer Price Inflation and Industrial Production numbers are released.
Thursday 19th January:
Australian unemployment is likely to remain around 5.3%.
In Europe, the ECB will release its monthly report, whilst in the US CPI numbers are expected to show consumer inflation running at an annualized 3.4%
Friday 20th January:
In Europe, PPI figures from Germany may show a slight up-tick, whilst UK retail sales numbers for December are expected to show a modest 0.5% increase.
In Canada, CPI figures will show how fast high street prices are rising, whilst Home Sales numbers in the US are likely bo indicate continuing sluggishness in the sector.
This Week's Major Company Results Due:
Citigroup (NYSE: C) and Wells Fargo (NYSE: WFC) continue the banks' reporting season on Tuesday, with Bank of New York (NYSE: BNY) and Bank of America (NYSE: BAC) producing their numbers later in the week.
Mining giant Freeport MacMoran (NYSE: FCX) will deliver what is expected to be good numbers on Thursday, while figures from IBM (NYSE: IBM) and Microsoft (NASDAQ: MSFT), as well as Advanced Micro Devices (NYSE: ADM), will impact the technology sector. Look for Intel(NYSE: INTC) on Thursday after the close.
Finally, on Friday General Electric (NYSE: GE) will report its latest quarterly numbers.
Other Events This Week:
Greece is to resume its debt negotiations on Wednesday. These talks are aimed at restructuring its debt held with private creditors, as it seeks to gain support for a write down it these debts. When the European Union agreed on Greece's last bail-out plan, under which half its debt would be written off, the EU insisted that as part of the package private creditors should do likewise.
Officials from the US are to visit South Korea and Japan. High on the agenda will be the situation in Iran and sanctions against it.
For more check out:
Podcast: David Morgan on Silver Investing in 2012 - Mike Swanson (01/15/12)
Podcast: Jeff Pierce of Zentrader.ca Talks about the Bond Market and Financial Blogging - Mike Swanson (01/14/12)
Podcast - Ron Struthers of Playstocks.net Discusses the Stock Market and Opportunities in Precious Metals Stocks in 2012 - Mike Swanson (01/13/12)
Podcast: Chris Vermeulen on the Recent DOW Rally Through October Highs and Gold - Mike Swanson (01/13/12)
Podcast: Jordan Roy-Byrne of TheDailyGold.com Sees a Bottom in Gold Stocks - Mike Swanson (01/10/12)
Grab This Free Report: My Top Options Trading Setup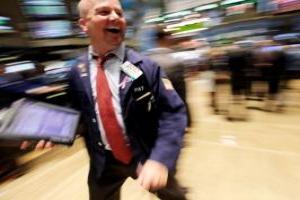 This free special WSW report is devoted to my top options trading setup. I do this one simple trade at least once a month.
Grab it and get along with it our future stock market action updates. Do not think about buying any other stocks or options before you read this report. To get this report click here