Will Shares of Bank of America (NYSE: BAC) Rally? - Howard B. Arnn (01/09/12)
By

Howard B Arnn

on Mon, 01/09/2012 - 06:45
After having led a surge in bank stocks last Thursday, shares of Bank of America (NYSE: BAC) fell by about 2% the following day to end at $6.17. This was after initial market speculations that the Obama administration would provide more financial assistance to distressed homeowners failed to materialize. An Obama administration official came out to deny that there were plans for a trillion-dollar program to refinance home loans.
According to a JMP Securities analyst, the Bank of America's (NYSE: BAC) stock rise on the initial market speculations was overdone anyway, as the bank's financial problems are far from over. Firstly, the bank remains vulnerable to mortgage putbacks, whereby the losses have already been locked in, and which is something that no refinance program can undo. (A mortgage putback refers to the situation when the mortgage originator is forced to buy back the mortgage due to findings of fraudulent or faulty origination documents.) Secondly, as pointed out by Citigroup analyst Keith Horowitz, Bank of America could face additional mortgage-related losses (ranging from $12 - $32 billion), which are beyond the $35 billion already recognized by the bank.
Thirdly, Bank of America also faces a possible hefty bill if the stock sale of UniCredit SpA (Italy's largest bank by assets) on 9 – 27 January falls flat. The Italian bank's two lead underwriters – Bank of America's Merrill Lynch investment-banking unit and Italy's Mediobanca Spa — have agreed to buy 10% of the stock offering, or €750 million, in the event of a complete failure of the stock sale. The current uncertainty in the European banking industry has made many investors wary of bank stocks. Lastly, analysts are concerned that the effects of the ongoing European debt crisis will eventually spread to the US banking system, pushing down the value of bank stocks further.
Bank of America, which is reporting its fourth-quarter results on 19 January, is expected to post a per-share profit of 20 cents, compared to just 4 cents during the same period in 2010. However, given the bank's underlying problems, Wall Street analysts, for now, are adopting a cautious view of the company's short-term prospects, and have cut their EPS estimate for the bank's stocks in 2012 by 18% to $0.96, compared to $1.17 three months ago.
In recent weeks, shares of BAC have been trading around $5 - $5.50, before rising above $6 last week. The bank's stock is currently trade at only 0.4 times book value, which means the stock could jump higher on any sign of positive news. However, given its unresolved financial problems, it also remains vulnerable to negative news, thus making it a highly volatile stock in the short run.
Check out Friday's podcast: Podcast: Mike Saul On the Market Action So Far in 2012, Gold, and the Coming Earnings Season - Mike Swanson (01/06/12)
Grab This Free Report: My Top Options Trading Setup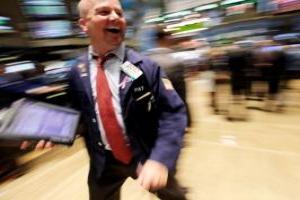 This free special WSW report is devoted to my top options trading setup. I do this one simple trade at least once a month.
Grab it and get along with it our future stock market action updates. Do not think about buying any other stocks or options before you read this report. To get this report click here