Stock Market Preview for the Coming Week - Howard B. Arnn (01/08/12)
By

Howard B Arnn

on Sun, 01/08/2012 - 11:45
The New Year kicked off on a firm footing after the holiday season. With European markets moving markedly higher in thin volume upon traders' return after their own New Year break, the US market followed suit and posted gains approaching 2% on Tuesday. However, the market couldn't continue its momentum through the rest of the week as disappointing economic data from Germany and the Eurozone overshadowed numbers showing a continued expansion of economic fortunes in the United States. The market drifted through the second half of last week, with the Dow Jones Industrials finishing at 12,359.92, a gain of 1.1%, and the S&P 500 Index faring a touch better with a gain of 1.6% to 1277.01.
The tech heavy Nasdaq 100 rose 3.4% to 2356.17, with leaders such as Cisco (NASDAQ: CSCO), Intel (NASDAQ: INTC), an Dell (NASDAQ: DELL) posting gains of over 4%. Figures showing semi-conductor sales dropping by 2.4% in November were tempered by news that a turnaround should be seen in the coming moths as the root cause of the problem – flooding in Thailand – dissipates and factories are able to return to production.
Good news came from GM (NYSE: GM) and Ford (NYSE: F), with year on year car sales showing increases of 5% and 17% respectively, though Alcoa's (NYSE: AA) announcement of a plans to cut 12% of its aluminum smelting capacity and rising raw material costs harming its margins give some cause for concern.
On the economic front, non-farm payrolls showed a better than expected 200,000 new jobs (estimates had centered around 155,000), and the unemployment rate falling to 8.5% from 8.6%. US ISM manufacturing data releases showed the Purchasing Managers Index (PMI) increased to 53.9 in December from 52.7 in November: the highest rating since last April. Other figures showed US construction spending increased by 1.2% in November, and amidst these bullish numbers the US Dollar continued to make gains against the Euro, hitting a 16 month high at around 1.2750. Good for inflation, a strong Dollar does make exports more expensive and this could add to growth concerns amongst exporting companies here in the US through the coming months.
This Week's Economic Releases
Next week sees a plethora of releases, both at home and abroad.
Monday 9th January:
German November industrial production figures are released along with its trade balance: this is expected to show a surplus of €13.2 billion.
Tuesday 10th January:
The Chinese Trade surplus is expected to show a sharp narrowing to 8.70 billion, from 17.03 billion
Thursday 12th January:
German December CPI is expected to ease to 2.1%, whilst both UK and Eurozone industrial production figures are expected to show rapid contraction in November from December values (-2.2% from –1.7%, and 0.3% from 1.3% respectively).
Both the ECB and the BoE are expected to keep interest rates on hold, and here in the US retail sales for December are estimated to have risen by 0.2% month on month.
Friday 13th January:
China will release figures that should show its industrial production hit 12.2% year on year in December and its retail sales grew by 17.1% in the same period.
The Eurozone November Trade Balance is expected to show a surplus of €1.1 billion, whilst the trade numbers are expected to show a deficit of $44.6 billion here in the US for the same month. However, one of the key indicators of market sentiment, the Michigan Consumer Sentiment Index, is expected to have risen to 70.5 from 69.9 showing that public expectations in the economic prospects of the US have once more increased.
This Week's Major Company Results Due:
Both Alcoa (NYSE: AA) and JP Morgan (NYSE: JPM) report in the early part of the week.
Other Events This Week:
Treasury Secretary Geitner plans to visit Asia in the middle part of the week. In particular he will be meeting both Chinese and Japanese officials, and the main topics of conversation are likely to be the economy, the Eurozone debt crisis, and the situations in Iran and North Korea.
Along with its rate announcement on 12 January, the ECB will hold its monthly press conference at which it may give more details of plans for the financial support of indebted European nations. Through the latter part of the week, both Spain and Italy will be holding bond auctions (€6 billion and €3.5 billion). Their reception could be an early indication of market support, or lack of, for European debt.
Also this week, the US will issue $66 billion of Treasury Bills from Tuesday through Thursday ($32 billion 3 years, $21 billion 10 years, and $13 billion 30 years).
Finally, it is worth noting that Germany's Merkel and France's Sarkozy will be meeting on Monday ahead of the EU Finance Ministers Meeting on the 23/ 24 of this month and the European Summit on the 30th which is expected to attempt to cement Europe's fiscal plans going forward.
Check out Friday's podcast: Podcast: Mike Saul On the Market Action So Far in 2012, Gold, and the Coming Earnings Season - Mike Swanson (01/06/12)
Grab This Free Report: My Top Options Trading Setup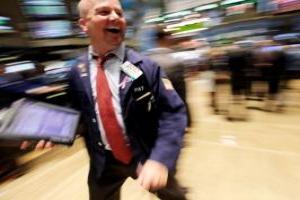 This free special WSW report is devoted to my top options trading setup. I do this one simple trade at least once a month.
Grab it and get along with it our future stock market action updates. Do not think about buying any other stocks or options before you read this report. To get this report click here