Intrade Contracts Predict Mitt Romney to Win Republican Presidential Nomination - Howard B Arnn (12/30/11)
By

Howard B Arnn

on Fri, 12/30/2011 - 11:51
According to the prediction betting website InTrade, former Massachusetts Governor Mitt Romney is currently back on track to become the next Republican presidential nominee. After falling as low as 42 percent in recent weeks, Romney has since bounced back to 76.5 percent. On the other hand, former Speaker of the House Newt Gingrich has seen a dramatic drop in his fortunes on the prediction market, falling from almost 40 percent to the current 5.8 percent. Gingrich's chances have even fallen below that of Congressman Ron Paul, who currently tracks at 6.4 percent on InTrade.
InTrade is a market that allows predictions to be made on the outcome of many real-world events. It gives investors the opportunity to make predictions, through the purchase and sale of shares, about the probability of something happening in the future. By buying or selling shares on InTrade, the investor can stake a clear position on a particular event in the future. For example, shares are bought when the investor predicts that the event will happen. If he or she predicts that the event will not happen, then the shares will be sold. Through such market movements, the share prices can give a good indication of the latest probability of the event happening.
In the latest Gallup national polls, Mitt Romney, at 27 percent, has gained a 4 percent lead over Newt Gingrich, while Ron Paul remained in third place with 11 percent. This means that Romney has succeeded in maintaining his momentum since overtaking Gingrich last week. This will provide Romney with the strategic advantage of being the frontrunner in the run-up to the Iowa caucuses on January 3 next year. Meanwhile, the latest CNN/Time/ORC International Poll of likely Republican caucus goers in Iowa also showed that Romney was leading at 25 percent, closely followed by Ron Paul at 22 percent. However, given the frenetic campaign activities and the fluid nature of polls, it remains to be seen whether Romney can maintain his slight lead to go on to win the Iowa caucuses.
Grab This Free Report: My Top Options Trading Setup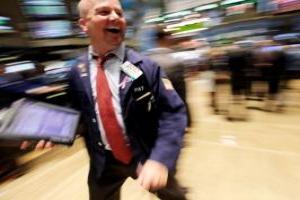 This free special WSW report is devoted to my top options trading setup. I do this one simple trade at least once a month.
Grab it and get along with it our future stock market action updates. Do not think about buying any other stocks or options before you read this report. To get this report click here