Mitt Romney is a Creature of Wall Street - Mike Swanson (12/13/11)
By

Mike Swanson

on Tue, 12/13/2011 - 12:11
Mitt Romney is a creature Wall Street who will only bring the country to further ruin if he is elected President. In my honest opinion we would be better off if anyone else besides him gets the Republican nomination and if he gets the nomination it would be even be better if Obama simply remains President.
And I am someone who did not vote for Obama in the last election and do not like the job he has done at all.
When you support or oppose a politician it is important to go beyond their rhetoric and look at the people who are actually behind him or her to get an idea of what they are really about.
Politicians can say anything, but all politicians are very keen on helping out those that get them where they are.
Thanks to the website opensecrets.org you can easily find out who the biggest campaign donors for any national politician are and if you look at all of the people running for the Republican nomination it is clear that almost all of the Wall Street money is flowing directly to Mitt Romney.
The top ten campaign contributors for Mitt Romney are:
Goldman Sachs $367,200
Credit Suisse Group $203,750
Morgan Stanley $194,300
HIG Capital $186,500
Barclays $157,750
Kirkland & Ellis $132,100
Bank of America $125,500
PriceWaterhouseCoopers $118,250
EMC Corp $117,300
JPMorgan Chase & Co $112,250
Every single one of his top ten contributors are Wall Street banks except for one - EMC Corporation. And the New York Post reports that today he is raising millions of dollars at three Wall Street fundraisers.
It is the banks that have brought the United States to its current state of malaise. It is the banks that garnered over a trillion dollars of bailout money at the end of the Bush administration and are now crying out for more bailouts in order to save themselves from the European debt crisis.
It is the banks that needed the Federal Reserve to lower interest to near zero so that they can get money for nothing from the Federal Reserve member banks while regular depositors like you get nothing for your CD's and bonds.
Such money printing has helped the stock market go up, but it has helped lower the standard of every American through inflation and higher prices at the gas pump.
It didn't have to be this way. President Obama could have taken the country in a different direction when he became President. He had a mandate by the American to bring real change to the country in a time of dire need just like Franklin Roosevelt did when he got in office.
But Obama did nothing to stir up the behind the scenes status quo and did absolutely nothing that the banks did not approve of. His so called opposition against banks which lasted for a few weeks was pr lip service.
It's not a coincidence that in the last Presidential election banks such as Goldman Sachs were among President Obama's top campaign contributors. Obama's last chief of staff served as an executive for JP Morgan.
Money counts in elections.
And in this election it is clear that Wall Street's creature in the race for the Republican nomination is Mitt Romney.
If you like bank bailouts and want to see more of them than be my guest and vote for Romney.
But if you want to see this country go on a different path than your only choice is to support one of the other Republican candidates for the Presidential nomination.
Right now Newt Gingrich is in the best position to beat Romney. Here are Newt's top ten campaign donors:
Rock-Tenn Co $27,500
Poet LLC $20,000
First Fiscal Fund $15,000
Pull-A-Part Inc $15,000
Amway/Alticor Inc $10,000
State Mutual Insurance $10,000
American Fruits & Flavors $10,000
Streck Inc $10,000
Windway Capital $9,600
Wirco Inc $8,500
There is only one Wall Street financial company on Newt's list - Windway Capital. Now you might think Amway is a sleazy pyramid scheme company, but Amway hasn't wrecked the country.
The same is pretty much true of the other candidates vying for the Republican nomination - none of their campaign contributors consist of a list dominated by Wall Street. None of them, but Romney.
So if you want another four more years of Wall Street domination of the Presidency vote for Mitt. And if you agree that he is bad for the country don't just sit there and do nothing about it. Tell people the truth about the powers that be that are behind him and go out and vote for an alternative. Mitt Romney would be a total disaster for our country.
If you liked this post vote below:
Grab This Free Report: My Top Options Trading Setup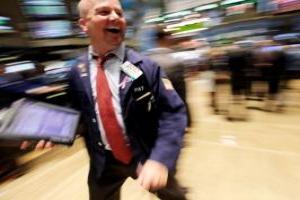 This free special WSW report is devoted to my top options trading setup. I do this one simple trade at least once a month.
Grab it and get along with it our future stock market action updates. Do not think about buying any other stocks or options before you read this report. To get this report click here