Why I Have Been So Silent Now On Gold Investing Lately - Mike Swanson (10/06/02107)
By

Mike Swanson

on Fri, 10/06/2017 - 12:08
I have been one of the most prominent advocates of gold investing and buying gold stocks for the past few years and as a result I have gotten several emails recently from people wondering why I have been not saying much about them lately.
I still own gold and gold stocks, but there are two reasons I haven't been saying as much about them.
First of all I launched my new options income trading alerts last month so recently I have had to spend time talking about them and the strategy behind them so that has taken away from talking about gold:
http://wallstreetwindow.com/beta/optionsincomeprogramjoin.htm
Secondly I can tell you that no one cares about gold or gold stocks right now.
I get almost zero emails about them and when I do it is like one email a week from someone in total panic over them.
When gold has a down day someone is always freaking out.
And when it is up no one is interested in buying gold.
Compare that to bitcoin where I am now getting dozens and dozens of emails about it every week.
But look at this gold price chart as it shows the situation.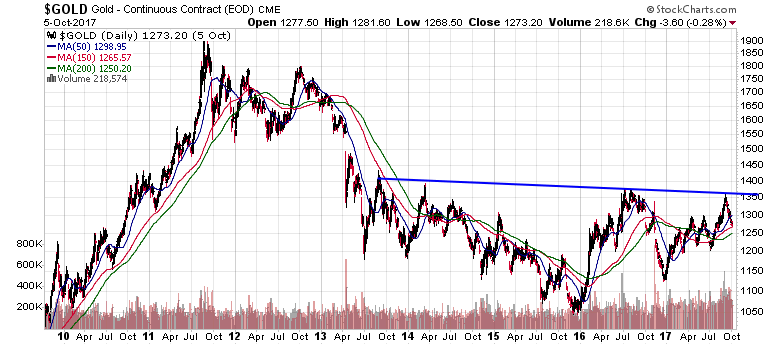 Now it's obvious that gold has big resistance at $1,350.
And it has support around the $1,250 area now.
I'm not expecting gold to go through $1,350 until probably sometime next year.
So gold and the mining stocks are essentially in a trading range with today's prices near the lows of that range.
That means now is a good time to buy in my opinion and my latest private Power Investor report has my list of top ten stocks I like the most all of which I own.
But no one cares.
And that is a big problem for me if I try to talk constantly only about it.
You see I spend money on advertising to get people to my website and to subscribe to this email list.
If I talk about something no one cares about all the time then many of those new subscribers will unsubscribe to go hear about something else.
So all I can do is talk about gold every once in awhile like today to try to draw attention to it from time to time as talking about it every day would wreck my business.
It's crazy, but that's how it is.
No one cares about gold and few want to hear about it, but I think gold is having a nice reversal today so it's worth taking notice of!
At the same time I'm not that excited about the stock market either and trying to chase stocks even though the market is up again this week and everyone is bullish.
And that's why I have designed a fairly market neutral strategy of simply selling options to make money.
And that's something I can now help people with who are new just starting out.
If I can help people make income in options then when gold starts to go up they'll listen.
With gold I think now is a great time to buy, but I still expect gold stocks to go sideways this year and many people rather get into something moving big now or learn a short-term trading strategy then have to buy something and be told to wait as an investor.
So it's a weird time for gold and investing in gold stocks - because literally no one cares.
But you can get these options alerts PLUS my top gold stock picks (which I own and give me dividends) by joining my private group here:
http://wallstreetwindow.com/beta/optionsincomeprogramjoin.htm
- Mike Swanson
Grab This Free Report: My Top Options Trading Setup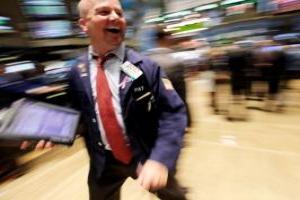 This free special WSW report is devoted to my top options trading setup. I do this one simple trade at least once a month.
Grab it and get along with it our future stock market action updates. Do not think about buying any other stocks or options before you read this report. To get this report click here