An Investment Sweet Spot Is Lining Up On Something NO ONE Is Talking About - Mike Swanson (10/03/2017)
By

Mike Swanson

on Tue, 10/03/2017 - 08:10
There are two ways to make money in the financial markets.
The first is with trading.
Most people try to trade in things that move fast like triple ETF's and fad stocks they hear about, but they have to jump in and out of these like a hot potato that glues them to their screen.
I don't trade like that, because I'm not in this just for action.
For the past few months I've been releasing options income trades that I just enter and then let them expire in a few weeks and enter a new one.
It's just a simple system:
http://wallstreetwindow.com/beta/optionsincomeprogramjoin.htm
The other way to make money and the real way to build big wealth is to invest.
Most people just invest in what everyone else is buying and what is hot, when in reality the sweet spot for investing is AFTER a big bear market is over.
When you do that you typically get huge returns at the start of a new bull market and if you can remain patient experience big gains over time.
This is an interesting chart Liz Ann Sonders of Schwab retweeted last week.
She's smart and cute and went to the University of Delaware.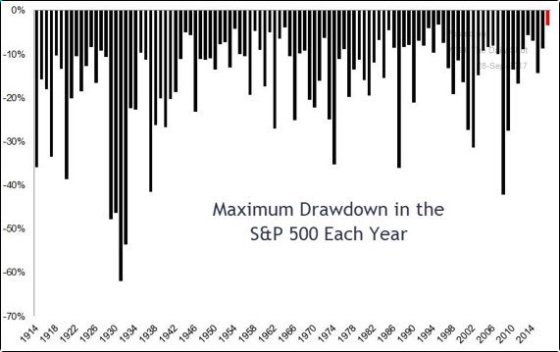 In this Sunday's private Power Investor update I made note of this chart, because it shows that so far this year we have seen the smallest drawdown from a 52-week high in the entire history of the S&P 500.
One way to look at that is to realize that one day a drawdown will come.
And the fact is that since one hasn't happened in so long no one it seems thinks it can happen anytime soon.
It probably won't this year, but it's scary.
But another way to look at this chart is to realize that the BEST time to invest is in a year after the big drawdowns do happen.
If you would have done that in 2009, 2002, 1988, and 1983 you would have made a fortune.
But no investment advisor is going to tell you to sit on your money and wait to buy later and no one wants to wait for years to get into the investment game either.
Here is the thing - almost all US media is obsessed with the S&P 500 and the DOW, but there is more to the financial markets than just them!
Every year usually there has been something that has had a big bear market and a big drawdown in the year before.
That's what led to the massive gold and gold stocks gains of last year and the buy point of a decade for them.
Oil stocks have been the worst sector of the market this year.
But oil itself hasn't really fallen that much.
There is something else I'm watching for an investment sweet spot in the first quarter of 2017.
I'll be writing about that in my next private Power Investor report this weekend.
If you grab my new Options Trading alerts you'll get this report as part of the combo deal.
To do that just go here:
http://wallstreetwindow.com/beta/optionsincomeprogramjoin.htm
- Mike Swanson
Grab This Free Report: My Top Options Trading Setup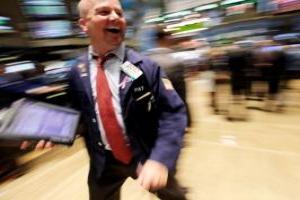 This free special WSW report is devoted to my top options trading setup. I do this one simple trade at least once a month.
Grab it and get along with it our future stock market action updates. Do not think about buying any other stocks or options before you read this report. To get this report click here