Facebook Shares Jump on Earnings News with CNBC Help - Mike Swanson (07/27/2017)
By

Mike Swanson

on Thu, 07/27/2017 - 06:52
Facebook shares jump on big earnings beat from CNBC.
Today FB earnings news is fueling a gap up before the open.
The above clip aired on CNBC this morning.
One funny thing is that immediatelly after FB reported earnings yesterday the stock actually traded down on the news.
But then a CNBC girl got on the air and pumped up the stock saying that they reduced costs and had predictions about video plays and instragram.
Fast Money's pony tail guy then started yelling in approval.
The lady above repeats this news.
So CNBC helped the stock and it is helping the stock market this AM before the open.
I see this as key action.
Gap ups are often sold.
If the market is going to top this week it will do so on this opening.
However - if the gap up isn't sold and the market does good into the close the rally is likely to continue into next month or if it pauses here and goes up again next week.
In 2015 the stock market actually reveresed in July on a FB gap up and faded into the August flash crash.
This time though as things stand now it looks to me more likely to continue higher into August instead of making a final top of the year in July.
We will see.
More importantly though gold stocks are on the rise again with the GDX/GLD ratio about to bust through resistance and many key large cap mining stocks breaking out already.
So no matter what the stock market does I expect gold stocks to go up more than the S&P 500 and more than even Nasdaq for the rest of the year.
I talked about this gold stocks setup coming into this week here.
If this is the first time you have come to this website then get on my action update list by getting on my update list here.
Grab This Free Report: My Top Options Trading Setup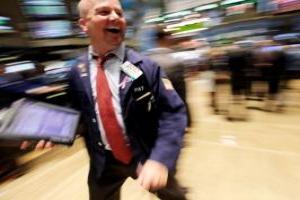 This free special WSW report is devoted to my top options trading setup. I do this one simple trade at least once a month.
Grab it and get along with it our future stock market action updates. Do not think about buying any other stocks or options before you read this report. To get this report click here