RadioShack: America's Technology Store No More - Retail Archaeology Dead Mall & Retail Documentary (05/19/2017)
By

wsw staff

on Fri, 05/19/2017 - 08:12
Founded in 1921, May 31 is Radio Shack's last day for most of its stores as the company is bankrupt. I remember the old commercial they show at the beginning of this video. The Super Bowl commercial at 8:30 was awesome, but it signaled the company's failed rebranding effort. They intended to emulate Apple stores, someone should have told them that they weren't Apple. The result was more floor space that equaled less product, less selection, which is never a good idea. But, hey, they outlasted Circuit City.
Grab This Free Report: Our Top Mining Stock Pick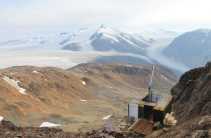 This free special WSW report is devoted to IDM Mining and why it is currently our top mining stock pick.
Grab it and get our next gold price entry point. Do not think about buying any other gold stocks before you read this report. To get this report click here