The Stock Market Is Headed for an October Drop - Mike Swanson (09/27/2016)
By

Mike Swanson

on Tue, 09/27/2016 - 08:43
I just put together a case study of a big cap stock to show you what has made so many stocks go up in the past few years in a lackluster economy.
It is for Gartner, which trades as IT on the NYSE and you can read this new post by going here:
Gartner Stock News: A Case Study.
Now I believe that the stock market is now lined up for an October drop.
Now this year we saw a tumble in the start of the year and then a double bottom in January and February that led to a big rally that ended in August.
We came into August with a market that lost all trading volume and volatility shrunk to nothing as the 20-day Bollinger Bands came closer together than they had ever gotten in decades.
What was happening is that the fuel that helped push the stock market up from corporate share buybacks simply ran out.
Trading robots then dominated the market action as they bought on support at 2160 of the S&P 500, but trading robots do not create sustainable rallies.
So in September the market averages dumped as the S&P 500 fell quickly to 2120.
It then bounced off of that level last week, but that bounce fizzled out on Friday and yesterday the market turned back down.
Here is where things stand now and why I believe we are now heading for an October stock market drop.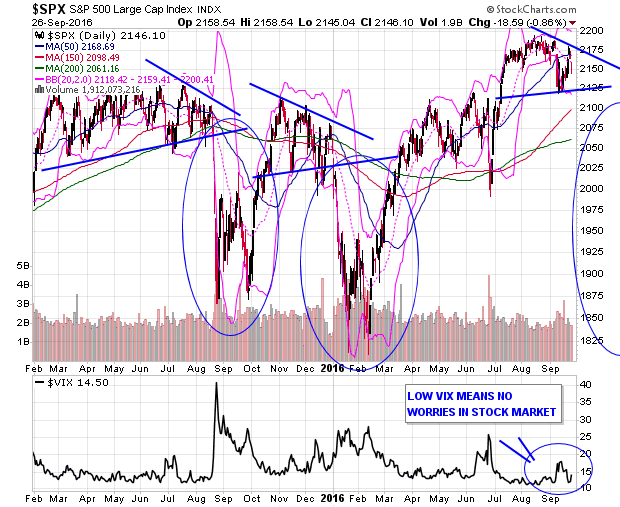 First of all there is no fear in the market as the VIX, which measures the premium options players are paying for volaility, remains at a low level.
When you have market corrections you typically do not see bottoms until the VIX gets up near or over 30.
It is only at $14.50 and has barely gone up in the past month, which means people as a whole have no worry in the world about the stock market action.
We have support at 2120 on the S&P 500.
During the last two tops the market built similar support levels and then when it broke it the stock market went straight down.
It seems to me that we are going to break that 2120 level within the next ten trading sessions (it could happen this week even) and then go down again.
In my view people should raise up CASH RESERVES if they have done so already so that they will have the ability to buy at a cheaper level instead of becoming one of the millions of forced sellers.
The only way to make real money investing is to buy at low prices.
But most people stay fully invested during declines and then either have no ability to buy or become forced sellers from fear.
That is why the VIX spikes up during declines and on bottoms.
Last week though the market rallied after the Fed meeting and on Thursday so CNBC focused their attention on that.
On that day CNBC's Fast Money show had William Fleckenstein on who told people that gold and gold stocks had started a bull market this year and warned people about the risks in the stock market.
The Fast Money disgraceful goon yelled at him and threw a fit at him for saying this.
CNBC hates investing in gold when in reality gold is something everyone needs to have in their portfolio.
I have 20% of my portfolio right now in gold ETF's and own some gold mining stocks.
I also am short the stock market, because I think it is going to go lower and I want to profit from that.
Betting against stocks though is hard for most people and it is easier just to raise cash and be patient.
But this CNBC guy encouraged people to stay fully invested on Thursday and mocked anyone who tried to tell people to be cautious.
And now we are facing a risky situation as the S&P 500 is likely to break 2120 and go into a decline in October.
If I am wrong then the market will hold up over the next few days and breakout next week.
Do not take what I am writing to you as a prediction, but understand how important this 2120 level is now.
Make plans.
If the S&P 500 breaks 2120 you will understand what is coming and be able to react.
You have no reason to be afraid if you plan and make changes when needed whether that is today or in a few days based on a clear plan that you write down.
Watching CNBC and someone yell that it is all going to go up forever and then doing nothing is not how anyone I know makes money in the financial markets.
The gold price chart is in a corrective phase in a big bull market, but that could end in a few weeks so I'm watching it very closely now.
You may want to take a look at your portfolio and apply relative strength investing strategies to figure out what to sell and what to buy later.
The other day I said I thought the market rally was going to end and enter a "stock market drift time" and just float around for a week or even a few weeks before going lower.
It seems to be doing that now, but it may not be able to hold support for more than just a few days from here.
The key take away is that 2160 on the S&P 500 is now the line in the sand for stock market bulls.
If it breaks people like the Fast Money maniac are going to end up getting hurt and many such people will end up becoming forced sellers later.
You make money in the end by outsmarting the other traders out there.
That means planning ahead, because few do that at all.
I have done that and it is my hope that my emails encourage you to do the same.
Put on hard hats now as we head into October!
If this is the first time you have come to this website then you need to get on my free email list to get my future updates. To do that just click here.
Grab This Free Report: My Top Options Trading Setup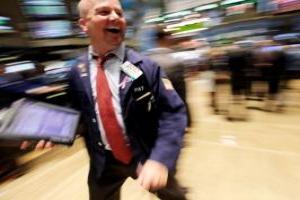 This free special WSW report is devoted to my top options trading setup. I do this one simple trade at least once a month.
Grab it and get along with it our future stock market action updates. Do not think about buying any other stocks or options before you read this report. To get this report click here