Stock Market Resumes Dead Money Penny Stock Trading Pattern - Mike Swanson (09/20/2016)
By

Mike Swanson

on Tue, 09/20/2016 - 07:43
Yesterday the market averages all gapped up and the DOW went up at one point over 100 points during the day.
But then it started to drop and by the close the S&P 500 and DOW both finished a fraction in the red.
Today though before the open it is poised to gap up again a bit.
This chart below shows you the short-term action.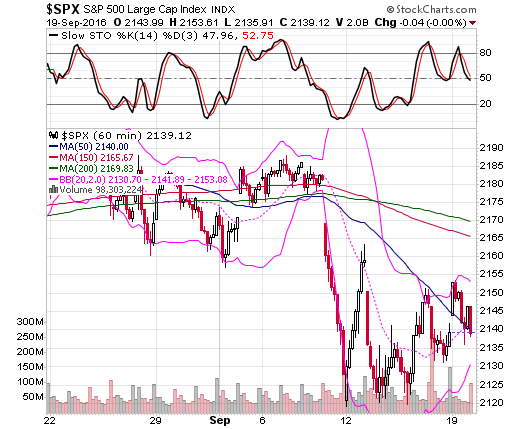 In August I talked a lot about the 20-day Bollinger Bands and how the width between them narrowed to a point not seen in decades.
That led to the big one day drop you see in the chart above that took the S&P 500 down to 2120 on September the 9th when the DOW fell 394 points.
The S&P 500 since then though has bounced and tested that 2120 support level two times since then.
It now has resistance in the 2155 area.
Yesterday the market gapped up and couldn't make traction.
What is going on is very simple.
In my view the stock market is now in an overall downtrend, but is pausing at the 2120 level.
Once the S&P 500 closes below 2120 I expect it to go down again quickly like it did the other week.
However the market is trading in a similar manner to the way it was doing in August.
If we step back for a minute if you take away the big drop day this month and just think about the action after that the stock market is actually trading in a similar fashion on the hourly chart to what it was doing in August.
Back then robots were buying off of a support level of 2160 on the S&P 500, but no real buying came in to break the market out.
You would get gap up days to resistance, but they just got sold whenever they happened.
Then of course the market finally broke support this month and dumped.
This is the type of action you see in a market that really is not very liquid.
Back in August I said that the US stock market was trading as if it had become a dead money penny stock.
The same can be said now.
Yes volume has picked up this month, but it does not appear that any meaningful buying has happened.
We have seen a few stocks such as Apple have nice moves last week, but it is only a few and they fizzled out last week.
In fact the last two days look like a reversal top for Apple.
In reality on any given day even when the market is down there is usually a stock that is up that gets people's attention.
So the temporary Apple strength last week made people ignore any underlying problems in the stock market.
Some other stocks that also were doing well last week such as WYNN (which Cramer shamelessly pumped on Friday) had big topping reversal days on Monday.
WYNN fell 4% yesterday after Cramer told people to buy it Friday.
WYNN fell 4% yesterday after Cramer told people to buy it Friday.
Cramer is personal friends with CEO Steve Wynn so I do not consider him as someone who is objective on the stock, but Cramer moves stocks because he has the captive CNBC audience of bubble bulls who hang on to his every word and chase any move.
Yes I still have some long core positions and even some in junior mining stocks, but I believe the stock market is going to decline over the next few weeks if not months (more likely in my view) and that is why I am betting against stocks right now heavily.
You may want to take a look at your portfolio and apply relative strength investing strategies to figure out what to sell.
I think the market is likely to break support after the Fed meeting this week or in the first half of next week to make another quick drop down to its next support level.
Eventually there will be a time to buy at much lower levels then you see now, but to be able to buy you must have money on hand to do so.
Most people though stay fully invested at market tops unwilling to take a bit of money off the table and then end up being forced sellers on extended market drops.
The solution is simple.
CASH RESERVES - RAISE THEM - SO YOU CAN BUY LATER AT LOWER PRICES.
Now the hourly Bollinger Bands are starting to come together.
That tells me that the choppy action will after the Fed meeting if not this week then early next week and there will be a real move again.
This weekend I did an interview on This Week In Money about the markets and gold right now.
To listen to it go here:
http://wallstreetwindow.com/node/12914.
If you are new to this website then you need to get on my free email list for future updates. Do that by clicking here.
Grab This Free Report: My Top Options Trading Setup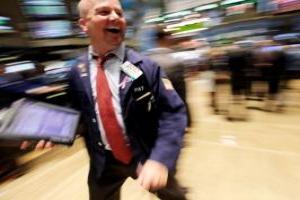 This free special WSW report is devoted to my top options trading setup. I do this one simple trade at least once a month.
Grab it and get along with it our future stock market action updates. Do not think about buying any other stocks or options before you read this report. To get this report click here