Is Friday's Job Reports Rally The Bubble Bulls Last Chance? - Mike Swanson (09/02/2016)
By

Mike Swanson

on Fri, 09/02/2016 - 08:53
Today's August job numbers came out at 8:30 and they were worse than the economists predicted.
Gold and gold stocks are up on the news.
The knee jerk reaction is a gain in the SPX futures right after the announcement as it pretty much demolishes the odds of a Fed rate hike at the September meeting in a few weeks.
Those odds were less than 25% anyway so it wasn't going to happen, but robots and short-term traders game every news items.
And with volume gone in August and stock buybacks vanishing it is trading robots that have been holding the market up during the past few weeks.
Look at this chart.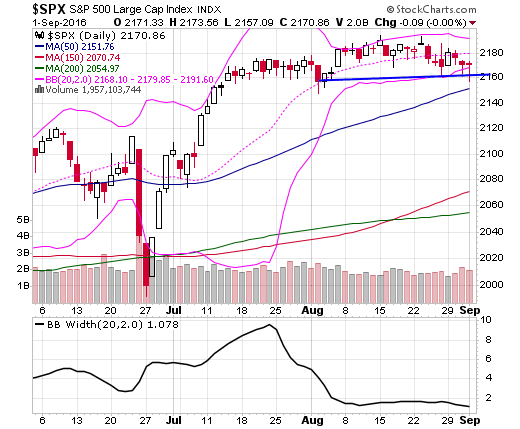 You can see that the 2160 level has acted as support on the S&P 500 now since around July 11.
It is trading robots that have come in to buy at that level and they did it yesterday.
The 20-day Bollinger Bands are now even closer together than they were a few weeks ago and the BB width indicator ended Thursday at 1.078 - which may be its lowest reading EVER.
It is in the data I have going back for 25 years.
Once the S&P 500 closes below 2160 I believe it will start to fall apart very quickly.
However, today we are gapping up and this represents what is really the last chance for the bulls to try to save the market from a big and nasty drop.
In August we saw several gap ups that would fizzle out that day or on the next day.
Really the only gains made in August were on gaps up that caused a few hours of buying that would then fizzle out.
Then the market would go back down to the S&P 500 2160 level where robots would buy and hold it up.
Obviously that pattern is not going to continue forever.
The bulls MUST rally the market now and into next week to the highs to break it or enough real selling volume is going to come in after this gap up move ends to turn things lower next week.
After Labor Day it will take more than trading robots to keep the market above 2160.
I see this as the bulls last chance.
If you are new to this website get on my free email list for more updates by going here.
Grab This Free Report: My Top Options Trading Setup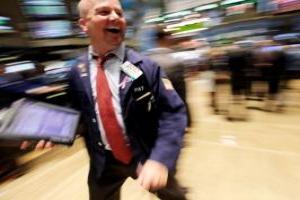 This free special WSW report is devoted to my top options trading setup. I do this one simple trade at least once a month.
Grab it and get along with it our future stock market action updates. Do not think about buying any other stocks or options before you read this report. To get this report click here