Target Sales Details Prove Ominous for Apple Stock - Mike Swanson (08/19/2016)
By

Mike Swanson

on Fri, 08/19/2016 - 09:25
This week shares of Target dumped again after the company announced that its retail sales were in big decline.
They held a conference call after the earnings release with details that are ominous for Apple.
I made note of Target in May in a post when the company came on my radar screen as a buyback mess.
In May I wrote an article in which I noted that Target bought back $3 billion worth of shares in the first quarter while only making $3.3 in revenue.
The buybacks created a stock rally in February and insiders used it to dump shares.
The CEO and insiders sold over 16% of their holdings in the six months leading into May with huge selling in March and April.
And since then they have sold millions more dollars worth of shares.
Despite all that stock market small fries just kept holding TGT only to suffer again when the stock fell again this week on them.
People who think earnings do no matter and valuations do not matter always end up holding the bag.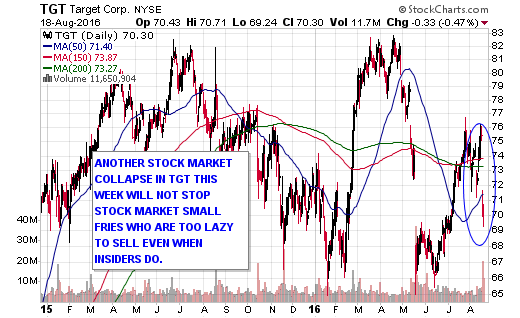 Target shares dumped in May on earnings and dumped this week on earnings again.
Typically when you see a stock fall on two earnings reports it becomes a dead money stock that just falls and falls.
So that is what Target stock has become.
Now during the conference call this week the CEO gave some interesting details about what is happening to its sales.
He said that 2/3's of the decline in their retails sales happened in the electronics department.
And in the electronics department they witnessed a 20% collapse in the sales of Apple iphones and ipads.
Now in April Apple announced that it saw its first decline in revenue in 13 years thanks to an over saturation in the smart phone market.
Apple phones were a huge fad for years, but they are nothing special anymore when there are dozens of others phones people can go and buy at a cheaper price.
And people are doing that.
Yes it is true that Apple had been a wonderful fad stock for people to buy in the past from 2009 to 2015 and became the most widely owned stock by stock market small fries.
But today it is no longer fun, because it no longer makes an account grow. People who own Apple do not see it make new highs and help their account grow anymore, but simply hold it hoping that will happen on day in the future as they ignore present reality.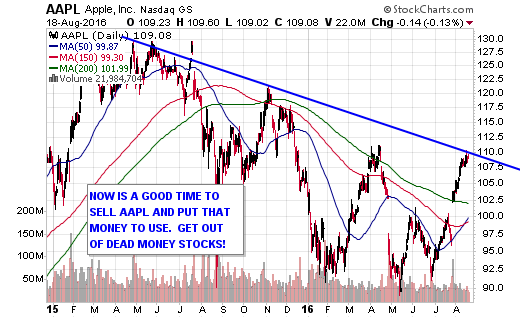 Of course Apple has had several terrible earnings releases over the past twelve months starting in July of 2015 when the stock gapped down huge.
The same thing then happened in November of 2015 and this past April.
This has not stopped stock small fries though from holding it.
It has remained the most popular stock for small account investors according to Ameritrade.
And yet Apple insiders have been dumping.
Just like the management of TGT they have sold over 16% of their holdings in the past twelve months.
The Target news suggests that things are not going to improve for Apple anytime soon.
It is going to remain a dead money stock.
In 2012 and 2013 owning Apple was an easy way to make money.
Today though owning Apple only puts one at risk for more losses down the road.
Buying and holding works in a big bull market, but when the stock market is dead it does not work so well.
After almost three years of sideways action the S&P 500 finally made a new high a few weeks ago and it has since gone nowhere.
Instead of a big surge the market market volatility has shrunk and trading volume has vanished.
he best way to make money is to invest in sectors starting NEW bull markets this year and to forget about trying to buy and hold dead money stocks like Apple.
In my opinion Apple should be sold and that money used to invest in gold and gold mining stocks or to trade with using short-term tactics.
Yesterday was the lowest trading volume day of the year for Nasdaq 100 and the lowest trading volume day since the half day of trading before last Thanksgiving.
Now low volatility always ends up leading to an expansion in volatility and we are now seeing record low volatility in the markets like I have never seen before.
I talked about what is happening in the stock market in an interview I did the other day with Jim Goddard. You can listen to it here:

Understand the Trading Action of the Stock Market Now - Mike Swanson (08/18/2016)
I know one trader who is using a timely system to bet simply on market volatility without needing to be right about what direction the stock market will go.
He created this system to trade around the release of Federal Reserve news releases, because they often create crazy short-term swings in gold and the stock market.
The system is kicking in now after the Fed minutes release two days ago and next week the system can also be used with the Jackson Hole Fed meeting.
Check it out by going here: Matt Morris Releases The Fed Minutes System.
Grab This Free Report: My Top Options Trading Setup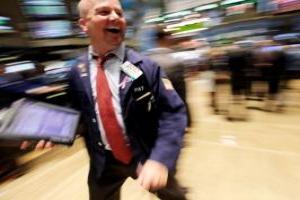 This free special WSW report is devoted to my top options trading setup. I do this one simple trade at least once a month.
Grab it and get along with it our future stock market action updates. Do not think about buying any other stocks or options before you read this report. To get this report click here