This is the top Nasdaq 100 Stock Year to Date - Mike Swanson (08/08/2016)
By

Mike Swanson

on Mon, 08/08/2016 - 08:09
This is the top performing stock in the Nasdaq 100 year to date.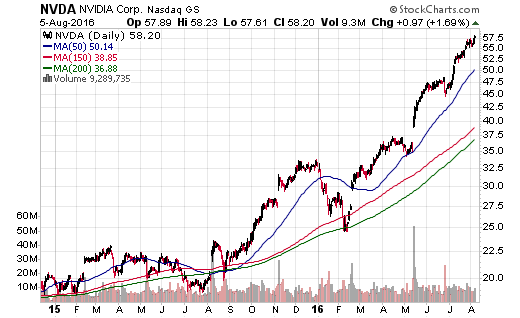 It is NVDA and it is up over 70% year to date.
Yes I know that there are many gold stocks up more than that and I know that there are junior mining stocks totally exploding, but NVDA is the top gaining stock this year in the Nasdaq 100 and is a big cap giant with a market cap of $31 billion.
The stock has gone up so much that it is now trading with a P/E of 49 and a P/S ratio over 6.
It has earnings this week on Thursday so no matter what the stock market does today and tomorrow it is likely to go up into earnings as people love to buy into earnings.
Who knows what will happen after that though.
There is something you need to know about NVDA.
There are people out there saying that the Federal Reserve is making the stock market go up by buying stocks, but this is not true.
The Federal Reserve is not buying stocks and there is no evidence that they are.
But NVDA shows us what the Fed is doing that has helped many stocks if you look into.
By making interest rates zero the Fed has enabled many companies to borrow money and issue massive amounts of junk bond debts.
NVDA has done just that and has used that money to buy back hundreds of millions of its shares.
In the last quarter ending this May NVDA bought back $480 million worth of shares while it made only $196 million in net income. It issued junk bonds and debt to do it.
And in the quarter before that it did the same thing.
And it did that last year too.
So that is how the Fed has helped many stocks go up this year.
It isn't that the Fed is buying stocks, but that the Fed is helping many CEO's put their companies deeper in debt and borrow money to get their companies to buy shares themselves and make them go up.
What is really bad is that there are companies that are doing this while the CEO and other board members are dumping their own shares to cash out for millions sometimes tens of millions of dollars.
Dunkin Donuts did this and even Apple is a big sad case where Apple insiders have dumped over 16% of their own personal holdings in the past year while making their company spend money to buy shares.
This is what is going on in the stock market and CNBC won't tell you this.
This is all going to end in disaster and the end game will be more money printing than anyone can imagine now and that is one of the reasons why gold is going up so much this year.
And when that starts to fail with stocks watch out.
This weekend I did a special video session with David Skarica about what we are seeing in the markets now.
Dave talked about an ETF trade he is in that turned into one of the top gaining ETF's of the week last week.
No one is paying attention to it.
We talk about it right at the beginning of the video:
Grab This Free Report: My Top Options Trading Setup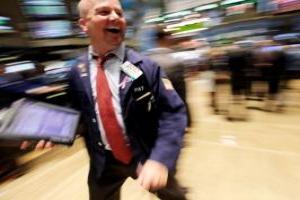 This free special WSW report is devoted to my top options trading setup. I do this one simple trade at least once a month.
Grab it and get along with it our future stock market action updates. Do not think about buying any other stocks or options before you read this report. To get this report click here