Gold and Stock Market Ahead of BREXIT Vote - Mike Swanson (06/21/2016)
By

Mike Swanson

on Tue, 06/21/2016 - 08:16
On Sunday night I did a live video session in which I went over a position I have now that I believe is going to become one of my big trades over the course of the next few weeks.
It has nothing to do with the stock market or gold and you can watch a recording of this video here.
Now one thing I did not do in this session is mention a single word about the BREXIT vote.
This has been the nonstop talk of CNBC and the financial media and I have not said a single word about it anywhere yet.
Everyone is obsessed with this BREXIT vote and making it into this giant issue and using it to explain the movements of the market.
I do not look at the markets that way and that is why I have not said anything about it.
You see I try to focus on and align myself with the big trends of the financials markets and to me the BREXIT vote is just a news blip that will be totally forgotten about after this week.
For instance gold and mining stocks went into new bull markets months ago and have gone up for months on end.
That has nothing to do with BREXIT voting.
In bull markets you get pauses and pullbacks for entry points and so that is what you are having at this moment for gold and mining stocks.
Pauses and pullbacks in a bull market shake people out, cause maniac traders to lose their positions, and make those cautious afraid to buy while the smart money uses them to accumulate.
And with the stock market the S&P 500 has been going sideways now in a giant trading range for a year and a half.
BREXIT did not cause this to happen.
We are now in a very small pause pattern that is going to end up leading to a big move and I think a move to the downside.
Look at this chart.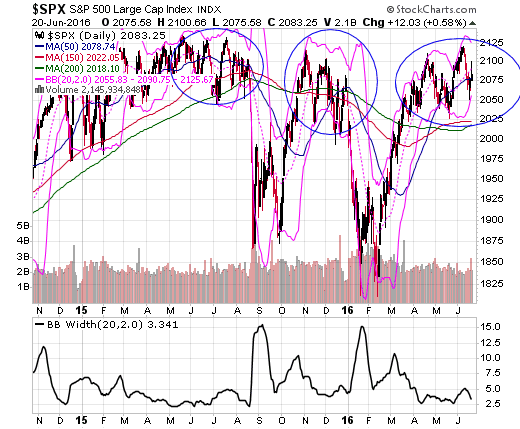 We have seen two big tops that led to big drops for the S&P 500 in the past few months.
Right now the 20-day Bollinger Bands are coming very tight together.
This means daily price pattern volatility is shrinking.
That is important, because that often leads to a move that lasts for several weeks.
When the Bollinger Bands get super tight they then end up expanding as volatility increases.
In August they got as close together as they had been in years and the August flash crash then hit.
In the next few days they are going to get so tight it is going to be a big tip that something big is about to happen.
BREXIT polls and odds are leaning more heavily into the stay in the European Union vote.
Yesterday the stock market went up on that news and is up in the pre-market today on that news.
The market is basically pricing in England staying in the European Union ahead of the vote.
So when the vote comes don't be surprised if the news gets sold Thursday or Friday.
That could lead to a volatility expansion in the daily Bollinger Bands and the start of a stock market dump on Friday or next week.
So this is actually one of those few rare times that come every year when I am looking at the hourly action in the stock market.
With gold of course there is a pause and dip into the BREXIT vote.
So we could see that dip end and a rally after that vote too.
I am treating the BREXIT vote not as some giant event that is going to change everything, but as something akin to a Fed meeting.
What I mean by that is that it is just a news event everyone is obsessed with at the moment, but does nothing to change the big picture or the structure of the markets.
Most people focus on news stories.
I focus on charts and big trends.
And when it comes to investing I maintain a well diversified portfolio that so far this year is beating the stock market and just about every hedge fund on the planet.
I do this with a very simple money management system and yes right now it includes core positions in gold and mining stocks.
The gold bull market is the most important single trend that people need to get involved with this year if they want to make money in the markets.
Right now I have openings in my Total Gold Trading Program, that includes a 30-day trial to my private Power Investor group.
This opening will end Thursday night and it is the best thing to buy now with the timing in gold.
To join and get in click here.
If you are totally new to this website and are not on my free email list go here.
The number one thing you can do is get into my Total Gold Trading Program.
Yes it is expensive I won't deny that, but it's expensive because it is for real.
So join it by clicking here.
Grab This Free Report: My Top Options Trading Setup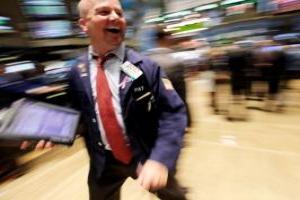 This free special WSW report is devoted to my top options trading setup. I do this one simple trade at least once a month.
Grab it and get along with it our future stock market action updates. Do not think about buying any other stocks or options before you read this report. To get this report click here