Today's Top Stock Market Story is China - Mike Swanson (05/03/2016)
By

Mike Swanson

on Tue, 05/03/2016 - 08:57
Today's top financial story is more news of a slow economy in China which has ruined yesterday's stock market bounce in pre-market action. The Chinese stock market has been in a bear market now for over a year and when it began last year it spooked traders all over the world, but they have forgotten about China as the stock market there put on a bounce in January. It didn't go up much it just stopped falling so people forgot about it. But the bounce looks like it has run out of steam on the charts.
Take a look.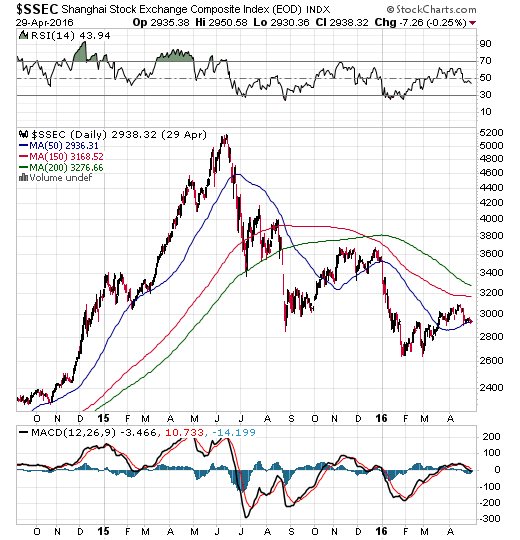 Everyone was scared when China came off its high last year - or I should say they blamed that move for coincidental stock market weakness in the US.
The US stock market has had a big rally and appears to have stalled out.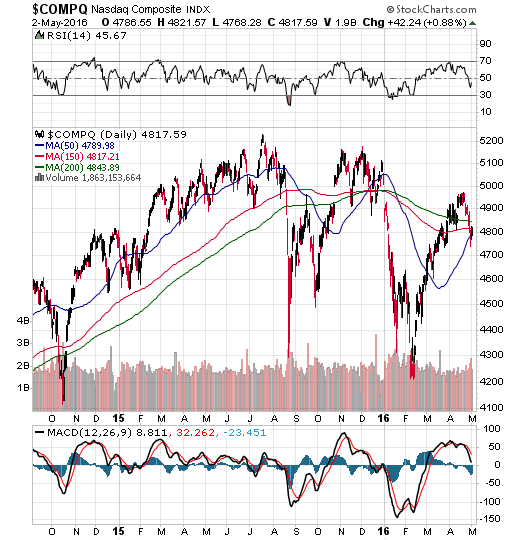 The Nasdaq is weaker than the S&P 500 and DOW.
It has fallen off of its recent high fairly quickly, but bounced yesterday.
This morning though it is gapping down.
We'll see what happens.
Here is the full Wall Street Journal about the slowness in the Chinese economy that is impacting the markets this morning:
China Manufacturing Gauge Weakens Further as Economy Loses Steam
Daily action isn't really that important, it is the big picture and a stall out rally here means big trouble is coming.
Of course we have the opposite situation in gold and mining stocks.
David Skarica talked about investing in junior mining stocks in a good interview I posted here.
Gold is flirting with the $1,300 level and looking to go up and up.
As I explained gold stocks are now entering a stairway to heaven rally.
This is a good time for you to get into my Total Gold Trading Program.
You can do that by going here.
Grab This Free Report: My Top Options Trading Setup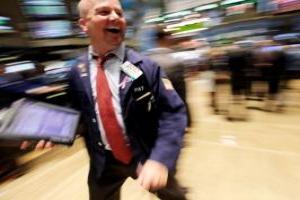 This free special WSW report is devoted to my top options trading setup. I do this one simple trade at least once a month.
Grab it and get along with it our future stock market action updates. Do not think about buying any other stocks or options before you read this report. To get this report click here