The Fed Meeting And Small Cap Action - Mike Swanson (10/28/2015)
By

Mike Swanson

on Wed, 10/28/2015 - 11:12
Today the Fed is going to have an interest rate meeting and everyone expects or I should say knows that the Fed is not going to raise interest rates.
That is causing people to bid stocks up into that meeting today.
However, the stock market is in a very overbought condition at this point and I would suggest waiting to see what happens after the Fed meeting before buying stocks into it this morning.
I'd wait a few days in fact as the market could actually top out this week.
We cannot predict exactly what will happen, but it is worth noting that last September the market made an important top that month on the Fed meeting day.
It actually had a big surge for an hour after the meeting and dumped on the close and then fell down to the August lows over the next two weeks.
So be careful.
Another reason to be careful is that despite the market rally, there is continued weakness in the internals of the market and with most stocks.
The rally has been led by a random group of big cap stocks such as GOOG, APPL, and AMZN to name three while most stocks have badly lagged the market rally and still remain below their 200-day moving averages.
The easiest example of this is a look at the Russell 2000, which tracks 2000 small and mid-cap stocks.
Last year there was a market dip in October and a hard rebound in which the Russell 2000 participated and quickly got back above it's 200-day moving average.
This time though it is still way below it.
This tells me that this is a bear market rally.
Now I do not think the market is going to top out and go straight back down to its lows like it did after the September Fed meeting, but it could trade like it did after the July Fed meeting.
That's because bear market rallies are often fast and furious and then lead to a period of sideways action that can last for weeks before the market turns back down again.
So be careful.
Now gold and gold stocks are testing their recent highs today and are in more of a position to have a real breakout on the daily charts than the stock market.
So keep your eye on them for the next couple of days too.
My investment plan is to go long the few sectors in the market in a position to go up for real and short the weak sectors.
Here is an interesting interview by Michael Belkin who is shifting money into gold mining stocks. He's a famed advisor who worked for Solomon Brothers.
To listen go here.
Also for your interest you might want to read this great review of my book The War State. You can find that here.
And a final goody - if you are new to options trading or want to know how to get started in it options master John Carter just released a new ebook for beginners. You can grab that here.
Grab This Free Report: My Top Options Trading Setup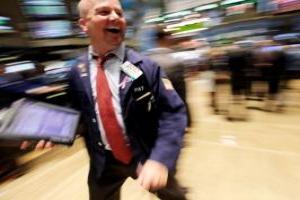 This free special WSW report is devoted to my top options trading setup. I do this one simple trade at least once a month.
Grab it and get along with it our future stock market action updates. Do not think about buying any other stocks or options before you read this report. To get this report click here