S&P 500 In Tightest Trading Range in 20 Years - Mike Swanson (06/11/2015)
By

Mike Swanson

on Thu, 06/11/2015 - 07:20
From a Bloomberg story this AM:
The S&P 500 rose 0.7 percent to 2,094.44 at 9:50 a.m. in New York, about 1.7 percent from a record reached May 21. The index hasn't had a 10 percent decline since October 2011, the longest stretch without a drop of that magnitude since a 55-month period ending in October 2007.

....

While the market has remained resilient, it has also stayed in a narrow track. The benchmark index is just 5 points below its average price for the past 100 days. The S&P 500 ended last week down 0.7 percent, marking its sixth straight week with a move of less than 1 percent, the longest stretch of calm since May 1994.
Full story here.
Comment - because it has been so long since the stock market has even had a correction most stock market bubble bulls have convinced themselves that it will never drop again.
This is why so many of them are on margin and have no care about market valuations.
They also expect that the Fed will print money and make the market go back up for them if it drops even if that wrecks the whole economy.
But the stock market is now approaching a bear market even if some people only get angry when you try to tell them.
But the market is doing what the market is doing and what anyone feels about the markets will not change the direction they go in.
The stock market internals are weakening.
Even CNBC in a story on its website today makes note of this:
Investors are nervously awaiting the death of the bull market – and the start of the bear. That day will come. But it's already here for 20% of big companies.

One hundred of the stocks in the Standard & Poor's 500, including Delta Airlines, retailer Wal-Mart Stores and oil exploration firm Transocean, are down 20% or more from their 52-week highs. A drop of 20% or more a high water mark is the unofficial definition of a bear market – the point that a stock drop gets especially painful.
Full story here.
Of course CNBC "anchors" will not make any note of this today.
And the small fry margin maniac cannot even ask himself what he will do when the bear comes, because he does not want to stop playing out his final gamble...
On Friday at 12PM EST I will be holding a live stock market mastermind session with David Skarica.
To join go here.
Grab This Free Report: My Top Options Trading Setup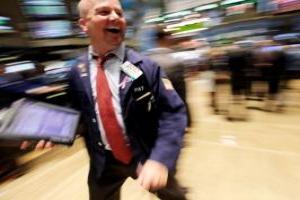 This free special WSW report is devoted to my top options trading setup. I do this one simple trade at least once a month.
Grab it and get along with it our future stock market action updates. Do not think about buying any other stocks or options before you read this report. To get this report click here