The Stock Market Is Dying - Mike Swanson (06/09/2015)
By

Mike Swanson

on Tue, 06/09/2015 - 07:04
If you read my June monthly newsletter or have been following my writings than you know what this chart is about and why it is important:
If you are not familiar with this chart what it means is that the stock market is dying.
The internals of the stock market are disintegrating and more stocks are going down then up.
A similar sharp drop in the internals took place in the second half of September ahead of the last quick correction in the market that took place in October.
They quickly rebounded back up once the market turned around, but since Thanksgiving they have been flatlined and now they are dying as the market averages are barely off of their highs.
They are warning that the market is going to continue lower here.
This is how they act at the very end of a bull market and right before a new bear market begins.
We will see more of a drop here and then a rebound.
You can bank on that.
DO NOT BUY NOW.
No it is not going to crash tomorrow or next week.
Instead what it is going to do is slowly drip down and inch down quietly so that people will not notice.
But if there is then a second move lower after a rebound you will then see huge selling in a full blown bear attack.
You will have a very short time window on that rebound to take action and protect yourself.
And the rebound when it happens may not even take the market back up to its highs.
The key pivot point to act on will likely be in the middle of July.
But I can tell you from the past two bear markets almost no one will listen and very few people will take action.
In fact very people are even aware of the importance of the internal action in the market and why the most important thing you can do now going forward for the next few weeks is to keep your eye on this.
And if you are on any amount of margin GET OFF OF IT NOW!!!!!!
All margin maniacs will be crushed and eliminated from the market forever this year.
Last month small investors piled into stocks even though market went nowhere and did so on margin judging by data from Ameritrade:
The IMX jumped higher to 4.91 in May while the S&P 500 slightly declined.

TD Ameritrade clients were net buyers of equities during the May IMX period, which helped drive the IMX to its third largest month-to-month percentage increase since tracking of the index began in December 2012. Net buying of equities was not the only factor in the increase, however, as some widely held positions saw increases in volatility relative to the overall market, which helped to further the increase in the IMX.

....

Popular social media stock Twitter Inc. (TWTR)—which lost nearly a quarter of its value when disappointing earnings were leaked before market close, and then saw its volatility relative to the overall market increase—was a net buy in May as TD Ameritrade clients appeared to see opportunity at the new, lower price. LinkedIn Corp. (LNKD) was another social media name that also saw a steep decline surrounding its earnings announcement and was a net buy. Starbucks Corp. (SBUX) and Apple Inc. (AAPL), both of which traded downward after setting new highs around their earnings announcements, were also net buys. Walt Disney Co. (DIS), which also traded at a new all-time high following its earnings announcement, was another net buy.
Full article here.
So the most popular stocks being bought by small players are social media bubble stocks it seems.
If you missed it I did an interview last week with This Week In Money, the Vancouver investment radio show, you can listen to here:
Grab This Free Report: My Top Options Trading Setup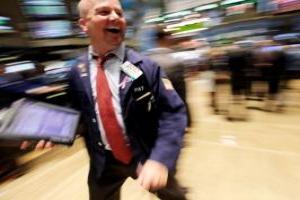 This free special WSW report is devoted to my top options trading setup. I do this one simple trade at least once a month.
Grab it and get along with it our future stock market action updates. Do not think about buying any other stocks or options before you read this report. To get this report click here