S&P 500 Earnings Are A Mess, But Earnings Do Not Matter Now - Mike Swanson (04/27/2015)
By

Mike Swanson

on Mon, 04/27/2015 - 07:52
On April 8, 2015 I made a posted titled S&P 500 Enters Red Earnings Time.
In it I said that earnings for the stock market were about to go into the red in this round of earnings reports.
In other words they would be negative.
I also predicted that this would NOT MATTER at all to stock market bubble bulls and would not cause them to sell.
I was right on both counts.
Here is CNBC today with a segment hosted by bubble girl saying that they are "chugging around just fine":
These traders will not be stopped buying because as one of them puts it "no one cares about anything."
Now, analysts on the whole expect to see S&P 500 revenue fall 3.5 percent year-over-year, whereas they had expected just a 2.6 percent drop when the first quarter ended.
The reason why earnings would not cause people to sell is simple - the bubble bulls in the market now DO NOT buy or own stocks based on fundamentals so they either have no awareness of earnings reports or simply do not care.
You see they buy only on price and the higher prices go up the more bullish they get.
They may say and believe that they are smart investors that invest based on "fundamentals" but they do not.
It is obvious where this will eventually lead to such investors - into disaster.
Now I am not saying the market is going to crash this week, but I am saying that every day that goes by it is getting closer to a new bear market and it will likely begin before the year is over.
And most bubble bulls will not adapt or adjust.
But you can.
To help you prepare for what is coming I just released my mini-course titled Bear Market Power Pack.


Grab This Free Report: My Top Options Trading Setup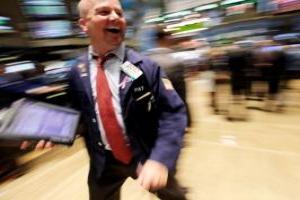 This free special WSW report is devoted to my top options trading setup. I do this one simple trade at least once a month.
Grab it and get along with it our future stock market action updates. Do not think about buying any other stocks or options before you read this report. To get this report click here