Investment Woes of Clinton Family Hedge Fund (03/23/2015)
By

wsw staff

on Mon, 03/23/2015 - 07:52
Bill Clinton's son in law runs a hedge fund and raised hundreds of millions of dollars thanks to family connections.
The fund is a disaster though. From a story in the NY Times:
Since marrying Chelsea Clinton five years ago, Marc Mezvinsky, a money manager, appears to have settled into his life as Bill and Hillary Clinton's son-in-law.....

.......

When Mr. Mezvinsky and his partners began raising money in 2011 for a new hedge fund firm, Eaglevale Partners, a number of investors in the firm were longtime supporters of the Clintons, according to interviews and financial documents reviewed by The New York Times. Tens of millions of dollars raised by Eaglevale can be attributed to investors with some relationship or link to the Clintons.
....

Eaglevale's flagship fund, with about $380 million in assets, is up about 10 percent this year, but that follows a poor performance in 2014. Last year that fund lost 3.6 percent largely because its bets on an economic recovery in Greece failed to pay off. By comparison, hedge funds using the same kinds of macro strategies as Eaglevale on average rose 5.62 percent in 2014, according to Hedge Fund Research, an industry performance tracking firm.

Eaglevale had worse luck with a fund that raised $25 million solely to bet on a recovery in Greece. Its 40 percent plunge last year was previously reported by The Wall Street Journal
....

In letters to its investors month after month last year, Mr. Mezvinsky and his partners sounded an upbeat and confident note that Greece would soon be on the path to a "sustainable recovery." It was not until the end of last year that Eaglevale finally acknowledged, "Our recent predictions regarding Greek politics have proved incorrect."

Eaglevale's flagship fund has since withdrawn from much of its Greek trading. The firm is now betting big on the United States dollar to outperform a number of foreign currencies.
For full story go here.

Grab This Free Report: My Top Options Trading Setup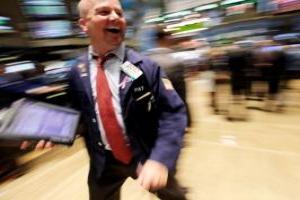 This free special WSW report is devoted to my top options trading setup. I do this one simple trade at least once a month.
Grab it and get along with it our future stock market action updates. Do not think about buying any other stocks or options before you read this report. To get this report click here