Robert Schiller Issues Warning On Bonds - Mike Swanson (02/13/2015)
By

Mike Swanson

on Fri, 02/13/2015 - 12:47
On CNBC Robert Schiller issued a stark warning on US Treasury bonds as the CNBC "anchor" sat there in stunned silence and then tried to dismiss his warning saying there is "no where else to go" but US Treasuries.
Schiller says its a "risky time" to be investing in bonds and that they "could crash."
But almost nobody watching CNBC will take any action and just about everyone will ignore him.
Schiller's advice is simple - it is to diversify:
Diversification by owning assets not linked to the US stock market or American bonds is mentally too difficult for American investors to do, because it requires not obeying the dictates of CNBC and what they are told to do every day - which is buy in the US stock market and believe things will go up forever for them.
Watch this clip - look at the women act uncomfortable when Schiller talks about diversifying... she cannot stand it.
And she programs her CNBC audience to be scared of diversifying too.
The truth is people love to obey TV and many are unable to do something they think is against the TV talking heads and anchors.
They are also too lazy to try.
And yet today there are markets all over the world going up at a faster rate than the US stock market is now and even individual commodities exploding higher.
And they cannot participate in that, because their TV doesn't give them permission.
And it never will.....
Grab This Free Report: My Top Options Trading Setup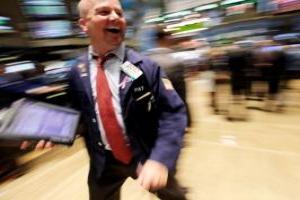 This free special WSW report is devoted to my top options trading setup. I do this one simple trade at least once a month.
Grab it and get along with it our future stock market action updates. Do not think about buying any other stocks or options before you read this report. To get this report click here