The Greece Game Of Chicken Begins - Mike Swanson (02/09/2015)
By

Mike Swanson

on Mon, 02/09/2015 - 08:11
The Greece game of chicken with the Euro begins.
Last week the new finance minister of Greece toured Europe to try to get some traction with the ECB and international bankers over its debt issues.
He was rebuffed.
And in Germany he was personally attacked.
The message from bankers is simple - we do not care about you, we do not care about the people of Greece, you will give us our money and if you die in the process so be it.
The truth may be that Germany and other European nations do not want Greece to recover, because they do not want to see a success there encourage others to turn their backs on banker austerity.
So now a game of chicken is being played between Greece and its lenders as over the weekend the new Greek Prime Minister said he will not stop trying to renegotiate his nation's debts.
Greek stocks are down across the board over 6% this morning as a result.
There are two key dates to watch this week in Europe.
On Thursday there will be a European G-20 meeting in which the new Greek Prime Minister will meet Merkel in person. On that day the ECB will decide whether to extend its bailout terms time zone for several months to leave the window open for negiations or else completely destroy the nation of Greece.
At the same time we will see if efforts to hurt Russia via the Ukraine crisis will accelerate or whether some sort of negotiation will begin there this Wednesday.
European leaders want the crisis to tone down, but neocon forces in the United States led by John McCain and Lindsay Graham want the crisis to turn into chaos as they lobby to send arms to Ukraine to build more war and death.
They were the head of the arms lobby that sent weapons to "rebels" in Syria that caused so much chaos in that country that ISIS appeared.
Now they hope to create more chaos in Eastern Europe.
They simply love war and act as front men for the world's arms dealers. They are merchants of death.
An overview of the crisis and the split between US neocons and European leaders:
This was warmonger John McCain being confronted by a Syrian woman over his sick war games back in 2013 when he was craving a mass bombing attack on Syria that the American people rejected at the time.
She was right - McCain helped destroy Syria and build ISIS and is treated by a great leader on TV.
This is McCain claiming that the rebel monsters he was getting US taxpayers funds for are "moderates" back in 2013:
Now he is looking to play his games in Eastern Europe.
The American power elite is totally nihilistic - instead of creating order they are creating chaos in the world and growing imbalances at home.
According to SMH:
The leaders of Russia, Ukraine, Germany and France agreed to meet in Belarus on Wednesday to try to broker a peace deal for Ukraine amid escalating violence there and signs of cracks in the trans-Atlantic consensus on confronting Vladimir Putin.

The four leaders held a call on Sunday, two days after Mrs Merkel and Mr Hollande travelled to Moscow for talks with Mr Putin that produced no breakthrough in the nearly year-long conflict that has claimed more than 5000 lives.

After the call, Mr Poroshenko said progress had been made and he was hopeful the meeting in Minsk would lead to a "swift and unconditional ceasefire" in eastern Ukraine, where pro-Russian separatists have stepped up a military offensive in recent weeks, seizing new territory.

A Ukraine military spokesman said on Sunday that intense fighting was continuing around the rail-junction town of Debaltseve, with rebel fighters making repeated attempts to storm lines defended by government troops.

Mrs Merkel came under sharp criticism from US senators Lindsey Graham and John McCain, both Republican hawks, for opposing the sending of defensive weapons to the Ukraine army to help it fight the separatists.
For full article go here.
US stock market futures are down sharply this AM following the Friday fade of its bounce off support last week.
Now stock market gullabulls have to prepare to suffer from another stock market dump.
Last week the stock market bounced up into resistance. The last three times it did that it immediately turned lower and dumped to support. The fakeout has Jeff Macke a little concerned, but not too concerned:
The stock market has been trading in an increasingly unstable manner since November.
That is the reality. And instability in the market like this typically precedes a vicious bear market.
Grab This Free Report: My Top Options Trading Setup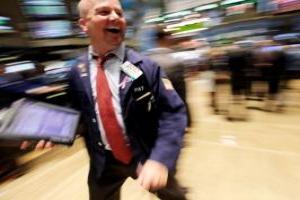 This free special WSW report is devoted to my top options trading setup. I do this one simple trade at least once a month.
Grab it and get along with it our future stock market action updates. Do not think about buying any other stocks or options before you read this report. To get this report click here