The Microsoft Blow-Up - Mike Swanson (01/28/2015)
By

Mike Swanson

on Wed, 01/28/2015 - 07:57
Yesterday was a nasty day for the DOW.
I don't have to tell you that, because you probably saw it.
Here is Bloomberg on it:
U.S. stocks tumbled, with the Nasdaq 100 Index falling the most since April, as a drop in durable-goods orders and disappointing results from Caterpillar Inc. to Microsoft Corp. heightened concern about the economy's strength.

Technology shares in the Standard & Poor's 500 Index plunged 3.3 percent for the biggest drop since November 2011. Microsoft lost 9.3 percent, the most in 18 months, as software-license sales to businesses were below forecasts. Caterpillar plunged 7.2 percent after forecasting 2015 results that trailed estimates as plunging oil prices signal lower demand from energy companies. Procter & Gamble Co. slid 3.5 percent as a surging U.S. dollar cut into its earnings.
For full story go here.
The drop in MSFT was brutal, but was it justified?
MSFT actually reported record hardware sales.
However there was a dip in Office software sales and a revenue hit thanks to the rising dollar's impact on foreign sales.
The reality is that the big reason why MSFT fell so much is that it is overvalued and everyone is already in it.
Even after yesterday's drop MSFT is trading with a PEG ratio of 2.00 and P/S ratio over 4.
This is the story for almost every single stock in the US stock market.
People chased stocks as they went up with the idea that valuations did not matter as long as they could get a dividend.
And the problem is as long as that works people ride a stairway to heaven, but once it ends they fall into a trap door.
MSFT yesterday was a brutal lesson for the stock market bubble bull.
But will he adapt and learn from it or simply hold and ruin himself when the next bear market really comes?
MSFT is now a broken stock. In October it was IBM that gapped down through all support and has been a deadweight ever since. Now it's MSFT.
What will be the next stock to die?
On CNBC there is no worry. Here is Joe Kernan interviewing a Wall Street girl to reassure his viewers about the market:
Look I do not think we are going to crash today.
With the Fed meeting we can see a bounce even.
But we are in a topping market in which the internals are deteriorating.
It's a process playing out right in front of our eyes.
CNBC can not tell is viewers what is happening, because if it does many will get out of stocks and stop watching forever.
All their guests can recommend is to keep buying stocks, because that is how their firms make money.
And what is sad is so many of the viewers just soak it all in and believe it, because they simply want to believe that the stock market will go up forever.
So they look up to the talking heads and obey people like Kernan.
He's on TV and they have been trained all of their lives to receive and obey their TV images so they do - and even many of those that doubt simply cannot sell and go against their TV boxes.
Grab This Free Report: My Top Options Trading Setup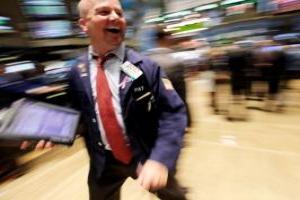 This free special WSW report is devoted to my top options trading setup. I do this one simple trade at least once a month.
Grab it and get along with it our future stock market action updates. Do not think about buying any other stocks or options before you read this report. To get this report click here