Bubble Bull Macke A Little Concerned - Mike Swanson (01/13/2015)
By

Mike Swanson

on Tue, 01/13/2015 - 08:17
Gold is going up.
Yesterday gold stocks rallied roughly 5% and gold today is approaching the critical $1,250 level.
The HUI and XAU appear headed right up to their 150 and 200-day moving averages.
It's been a fun year so far for gold investors, but no so much of a fun year for stock market bulls so far, because the US stock market is now red year to date and has done nothing but go up and down in a frustrating manner.
This is bothering some of the leading market bubble bulls, including Jeff Macke as he explains in the above video.
He says, "this is a problem. It's a change of character from what we've seen over the last two years in terms of the the whole super-obvious V-bottom narrative that has served dip buyers so well. Maybe that's for the better. It's neither normal nor healthy market action to have everyone on the same trade. "Buy the dip NOW" had become too obvious. That trade may be falling apart here."
However, he is not too worried and is still bullish, because he claims - "Big picture, that's good. In the now it's tracing out an ominous pattern technicians call a Head and Shoulders."
Macke is one of the more colorful and interesting market commentators now online. He has kinda become the Jim Cramer of online finance.
Every year new trends develop in the financial markets and the easiest way to make money is not to keep betting that the dominant trend of the past year will just keep going on forever, but to discover and get on the new bull trends in markets just beginning a new bull market.
Stage three tops are market patterns that cause people to churn their accounts and then ultimately crush themselves when the full blown bear attack comes.
That said I do expect a pop up in the markets during earnings season that will serve as a rally trap for gullabulls who buy off TV news stories of "good" earnings reports from companies that beat purposely lowered earnings to generate "good" news stories.
Grab This Free Report: My Top Options Trading Setup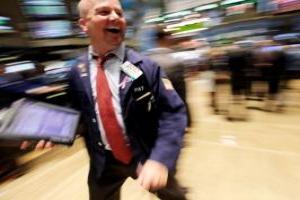 This free special WSW report is devoted to my top options trading setup. I do this one simple trade at least once a month.
Grab it and get along with it our future stock market action updates. Do not think about buying any other stocks or options before you read this report. To get this report click here