David Einhorn Increases Short Positions On "Bubble Basket" - Mike Swanson (11/10/2014)
By

Mike Swanson

on Mon, 11/10/2014 - 09:35
Hedge fund superstar David Einhorn of Greenlight Capital is piling into bets against technology bubble stocks.
Greenlight also added to its previously disclosed "bubble basket" of technology company shorts. Einhorn used Amazon.com as an example of one such overvalued stock.
"One of the principal bullish assumptions supporting many bubble stocks is, 'the company is growing too fast to be very profitable,'" he wrote in a letter to his hedge fund members. "We think AMZN is just one of the many stocks for which this narrative will ultimately prove false."
Physical gold is also one of his biggest positions.
Einhorn has been running one of the biggest hedge funds in returns of size and returns over the past decade, but CNBC does not like his bets and makes him sound like a giant loser in this clip.
And CNBC watchers hate him too.
These are comments on the CNBC website page from individual investors:
"He's a yuppie scumbag. Doesn't produce anything. Just runs his pampered mouth."
"Annoying DB. Belongs in jail. "
"This guy is a class a bs artist."
The masses are very bullish on the market now and think it will go up forever - and if you tell them they need to be cautious they spit in your face.
You see some of them in action on this website.
According to the latest Investors Intelligence poll once again the crowd is all bulled up with over 54% of respondents bullish.
All are betting on and expecting a giant end of the year rally.
And they do not care what price they pay for earnings.
Value investors buy low and sell when valuations are rich.
But the masses never sell and when the next bear comes will be eaten alive.
They also hate gold.
Here is Jeff Macke - the momentum bubble chaser of Yahoo Finance - predicting gold going to $900 an ounce:
This is what passes as investment and stock market analysis today in the financial media.
Grab This Free Report: My Top Options Trading Setup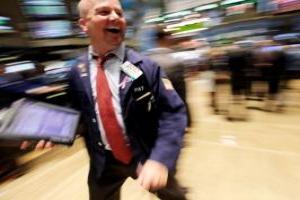 This free special WSW report is devoted to my top options trading setup. I do this one simple trade at least once a month.
Grab it and get along with it our future stock market action updates. Do not think about buying any other stocks or options before you read this report. To get this report click here